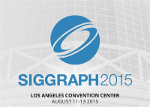 ...we are already working on new projects, some of them software and some of them hardware. SIGGRAPH will be a great place to showcase some of these new ideas.
Los Angeles, California (PRWEB) August 03, 2015
Noitom Ltd., the company behind Perception Neuron—the world's most affordable and accessible motion capture technology—will once again be taking part in SIGGRAPH, the annual conference whose attendees include filmmakers, animators, engineers, 3D artists, educators, and students, being held this year at the Los Angeles Convention Center in Los Angeles, California, August 11-13.
"This has been an exciting year for us with the launch of Perception Neuron and the incredible reception it has garnered from professionals," explains Tristan Dai, co-founder of Noitom. "And we are already working on new projects, some of them software and some of them hardware. SIGGRAPH will be a great place to showcase some of these new ideas."
This will be Noitom's third year at SIGGRAPH which is now in its 42nd year and the Beijing-based company who has shot up to the top of the virtual reality and motion capture technology billboard will focus on its star product — Perception Neuron — and new cutting-edge software applications. The booth will feature four stations where invited guests can experience the revolutionary mocap system first-hand:
A 2-Player VR experience will allow users to see one-another and use their hands to test their dexterity to manipulate shapes.
The Virtual Camera experience will allow users to see an actor wearing a full body Perception Neuron setup through a tablet in a virtual environment in real-time. The virtual camera is an early development concept for a product slated for release in Q3 of 2016.
The MotionBuilder® workflow station will demo the beta version of the Axis Neuron plugin which will be available in the next release of the software
The iClone 6 by Reallusion® station will show live demos of one of the most flexible and affordable solutions in the market for instant visualization and storytelling using Perception Neuron. A representative from iClone will showcase the simple workflow that can be achieved using their system.
"SIGGRAPH being in the world's entertainment capital is no small order," says Roch Nakajima, Americas/Europe Marketing Director at Noitom. "We need to showcase so many aspects of Perception Neuron it is difficult to fit them all in a convention booth. Film, animation, 3D and virtual reality are all merging into an entertainment industry that looks to be viable in the future. The race is on now to deliver new ways not only to create but to immerse the user in that new medium. This is one of our challenges."
Members of the media who wish to experience a Perception Neuron demo must contact Susy Ferrer at susy(at)myrockgroup(dot)com to schedule an appointment.
Perception Neuron will be at Booth 644 at SIGGRAPH 2015 taking place at the Los Angeles Convention Center, 1201 S. Figueroa Street in downtown Los Angeles. The conference will be from August 9-13 with the exhibition taking place August 11-13. Perception Neuron will also be showcasing its motion capture system at the Reallusion® booth, number 236. For hours, information, and to register for this year's conference and exhibition, please visit http://s2015.siggraph.org/attendees/registration.
To learn more about Perception Neuron, or to place an order, visit neuronmocap.com.
Founded in 2011, Noitom Ltd. works with a team of dedicated engineers who develop world-class motion capture technology for consumer and industrial markets through the integration of MEMS sensors, pattern recognition, human kinetics and wireless transmission. Noitom is an international leader in innovative technology for use in animation, film, medical applications, robotics and gaming. Noitom is headquartered in Beijing with affiliate offices in Shenzhen. For further information about Noitom and its services, please visit, http://www.noitom.com. For general inquiries, please email, info(at)noitom(dot)com.