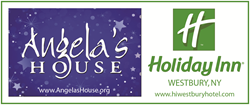 We're confident that Long Islanders will respond to our call for assistance, as they will not only be making a donation for a great cause, but will attend an event that I believe they will thoroughly enjoy
Long Island, New York (PRWEB) August 03, 2015
The Holiday Inn Westbury is all set to host their unique Hawaiian Luau fundraising event for Angela's House. Over the last couple of weeks they have received commitments from sponsors, and they have also received various raffle prizes, which will be raffled off the night of the event to assist them in reaching their goal of raising $10,000.00 on behalf of the children and families of Angela's House.
The Hotel's team has purchased fabulous Hawaiian Luau themed decorations to transform their courtyard and pool area into tropical oasis. They have also hired an array of entertainers to add to the overall Luau themed event. In addition, they have reached out to thousands of Long Islanders inviting them to attend the event. They have done so through direct mail, advertising, and e-mail blasts. The team has also sent out personalized e-mails and letters to help draw attendance. They are now also going out to meet with people face-to-face, and are asking all that may be able to assist to get involved.
The Hotel's General Manager, Franklin Manchester stated that all they really need now is commitments from people to attend. He added, "We made it easy for people to learn more about the event, and sign up right through our website. We're directly linked to the Angela's House website, which takes people back to our website and blog page with an electronic method to RSVP. We're confident that Long Islanders will respond to our call for assistance, as they will not only be making a donation for a great cause, but will attend an event that I believe they will thoroughly enjoy."
The Holiday Inn team believes that this event will be a great Social and Corporate Mixer, and the fact that it's backed by a great cause will just prove to be even more beneficial than people may believe. The Hotel will continue to seek sponsors of all levels, donations for raffle prizes, and attendees until they have reached their capacity, which is approximately between 250 - 300 guests.
For additional information regarding the Holiday Inn's fundraising event for Angela's House, they are encouraged to visit the Hotel's website at http://www.hiwestburyhotel.com. The Holiday Inn Westbury is located in centralized Nassau County at 369 Old Country Road, Carle Place, NY 11514.