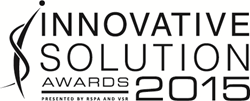 The Accucode solution really stood out, not only because of its innovative omnichannel technology solution, but also because of the dedication Accucode showed to its customer to understand and ultimately solve a complex business problem.
Centennial, CO (PRWEB) August 05, 2015
Accucode is proud to announce the receipt of the 2015 Innovative Solution Omnichannel Award last night at the RetailNOW show in Orlando, Florida. The Innovative Solution Awards were established in 2008 by Vertical Systems Reseller (VSR) and the Retail Solutions Providers Association (RSPA) to honor companies that have blended multiple technologies to create outstanding and future-forward solutions.
Accucode received the award in recognition of a solution provided to a large, national tire and wheel retailer. Accucode's customer was rolling out an ERP solution and needed to implement a digital tracking solution for their tires. For nearly fifty years, the retailer had used the same outdated, manual process to track inventory quantities and locations, which resulted in significant inventory shrinkage and poor customer service. Realizing the need to modernize their operations, the company went through an extensive RFP process to determine the best vendor for the project. Three vendors were selected for the proof of concept phase, with the task of installing their proposed solution at three of the company's locations near their headquarters. Based on an impressive proof of concept and unparalleled responsiveness, Accucode won the project over two large, national corporations.
Accucode's ingenious solution, including hardware and infrastructure, allowed the customer to move to an advanced inventory tracking system using wireless handheld scanners and wireless thermal printers that integrated seamlessly with their new ERP. In order to utilize the scanners and printers, Accucode installed a wireless network at every retail location, warehouse, and distribution center.
The immense time and effort Accucode put into the project, from early research and development through the installation rollout, resulted in a unique, highly successful solution. Accucode was awarded the project in June 2013, and quickly turned around the main installation rollout that began in September of 2013 and was completed in April of 2014. In under 9 months, Accucode configured and installed a wireless network, mobile handhelds, and thermal printers at 873 retail locations, 4 distribution centers, and 22 warehouses across the United States.
"The Accucode solution really stood out, not only because of its innovative omnichannel technology solution, but also because of the dedication Accucode showed to its customer to understand and ultimately solve a complex business problem. At the end of the day, the retailer gained control and confidence over its inventory, and experienced significant cost savings that led to measurable profit enlargement. That's a big win in our book," Angela Diffly, Editor, VSR Magazine.
In addition to installing the solution at all new retail locations, Accucode provides ongoing support, monitoring, and management of the wireless networks, Meraki access points, Motorola handheld scanners, and Zebra printers at over 935 locations in 29 states. The customer has complete confidence in the solution thanks to managed services provided by Accucode, including mobile device management, help desk support, next-day replacement of hardware in the event of failure, warranty administration, and much more. With the solution Accucode provided, the national tire retailer can now rest assured they have the right stock, the right equipment and the right manufactures' tires in the right facility, which has greatly improved customer service. Overall, the customer has seen decreased inventory shrinkage, as well as increased operational efficiency and profit.
"I would like to thank our customer (you know who you are!) for partnering with us and allowing us to be part of their strategic vision. We are excited to have completed such a challenging project and are proud to be acknowledged for doing what we do best - solving complex problems with unique solutions that are scalable and repeatable," said Kevin Price, Founder and CEO of Accucode.
For more information about the solution, a detailed case study is available on our website.
###
About Accucode
Accucode is a software developer and solutions integrator specializing in the application of mobile computing, wireless infrastructure, and automated data collection technologies. Accucode pioneered the Hardware-as-a-Service model under which fully managed tablets, software, and other technologies are delivered at a fixed subscription rate, removing capital barriers and mitigating maintenance and other life-cycle risks for customers. Accucode provides cost-effective solutions for warehousing, retail, manufacturing, transportation, healthcare, and education. Accucode has built a reputation of excellence by providing its clients with turnkey, best-of-breed solutions backed by the company's proven expertise and world-class service.
For more information visit http://www.accucode.com
About VSR
A member of Edgell Communications' Technology Group of magazines, Vertical Systems Reseller (VSR) Magazine is the media brand known for its ability to support the channel with objective news and hard-hitting insights. VSR speaks to value added resellers (VARs), independent software vendors (ISVs), managed services providers (MSPs), distributors and various other solution providers, with editorial content focused on SMB markets across six key verticals: retail, hospitality, healthcare, financial services, public sector, and supply chain. For more information, visit http://www.verticalsystemsreseller.com.
About Retail Solutions Providers Association (RSPA)
RSPA is the only association connecting the Point of Sale technology ecosystem. Its members include resellers, distributors, hardware manufacturers, software developers, consultants and service providers who bring retail technology solutions to the marketplace. RSPA has been in existence for over 60 years. It began as the ICRDA (Independent Cash Register Dealers Association) and later merged with the SDA (Systems Dealer Association), creating a new association known as RSPA. The organization had always been a trade association dedicated to the point of sale industry with membership exclusively made up of POS resellers. Today, the RSPA has transitioned to an industry association including all stakeholders of retail technology, POS, and beyond. For more information visit http://www.gorspa.org.