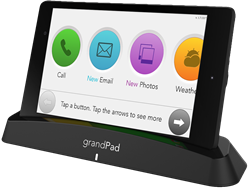 "The grandPad is helping connect our clients to whatever resources they need to live the healthiest, most independent life possible - something Lifesprk calls living a 'sparked life'"
Orange, CA (PRWEB) August 04, 2015
Technology company grandPad announced today its partnership with Lifesprk, a whole person senior care agency providing Life Care Management and in-home services. This partnership helps seniors over age 75 avoid isolation and stay connected to family with the goal of decreasing health risks associated with aging in place.
According to a 2011 AARP study, nine out of 10 adults over age 65 want to stay living in their homes as long as possible. And while the Administration on Aging reports 47 percent of women over age 75 live alone at home, a Kaiser Family Foundation report found more than 5 million seniors need assistance with normal activities of daily living.
In addition, living isolated at home can lead to health risks ranging from medication mismanagement, eyesight issues leading to falls risk, poor or malnutrition and increasing dementia or cognitive impairment. According to the Alzheimer's Association, 25 percent of those with dementia are living alone.
Both grandPad and Lifesprk are dedicated to solving the challenges for aging in place seniors and their family caregivers. The grandPad, the company's flagship product, is a simple and secure 7-inch tablet solution for seniors that connects them to friends, family and activities they love. The device, which is customized to each grandPad user, facilitates interaction between seniors and family members including the sharing of photos or videos via a Companion App using Facebook or Instagram, listening to favorite music whether Frank Sinatra or Patsy Cline, playing games such as Solitaire or Sudoku, watching videos or exchanging emails. Also, video calls are as easy as touching the picture of a family member and you are connected; no passwords or complicated user names required. The lightweight design has a senior-friendly user interface and specially designed stylus that allows users to embrace new technology in a non-threatening, easy way.
"While millions of seniors desire to stay living in their homes as they age, many of them become isolated and suffer from associated health issues. grandPad partners with Lifesprk to support seniors and family caregivers with aging in place risks because of their inability to perform the tasks to keep them safe and healthy," said Scott Lien, CEO and co-founder of grandPad. "Our partnership with Lifesprk is the perfect marriage of using a technology tool to allow family caregivers to 'virtually' care for their loved ones literally 24/7 keeping seniors engaged with family and the things they love while also having health care experts watch over their care needs at home."
Lifesprk goes beyond premium home care to provide services to more than 550 senior clients a day through its network of Life Care Managers, registered nurses who work with seniors and their families to deliver personalized, proactive care and guidance using a whole person approach. According to Lifesprk founder and CEO, Joel Theisen, RN, social connection is essential to help seniors live healthier, richer and more fulfilling lives. The award-winning company reports results that reduce client hospitalizations by 73 percent and emergency room visits by 52 percent.
"The grandPad is helping connect our clients to whatever resources they need to live the healthiest, most independent life possible - something Lifesprk calls living a 'sparked life,'" said Theisen. "We're looking forward to the opportunities this partnership brings to our full Lifesprk network."
About grandPad
grandPad was founded on the idea that technology should help bring families together. The mission of grandPad is to provide a solution that is intuitive, engaging and safe. The company's flagship product, the grandPad, is a tablet computer for people who want a simple, safe solution that connects them with family, friends and caregivers. Simple joys should be simple to share.
Learn more at: http://www.grandpad.net
About Lifesprk
Proven Whole Person Senior Care
As a premium home care provider, Lifesprk excels at providing short and long-term care with a focus on sparking lives when seniors need it most, wherever they call home. Their proven whole person senior care approach goes beyond traditional home care options to dramatically reduce ER and hospital visits, translating into significantly lower long-term costs for clients and the system.
Learn more at: http://www.lifesprk.com