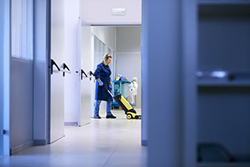 As parents and adults, we have to continue to educate ourselves on the products we're using, specifically in the cleaning industry, because we use them every day and they are so potent.
Columbus, Ohio (PRWEB) August 04, 2015
Manufactures are very successful using campaigns that tie nostalgic references and smell to product effectiveness; however, fragrances actually mask dirt and odor. Rather than covering up the unpleasant odor of dirt, cleaning products should kill bacteria, germs, and emulsified soil. Columbus, Ohio commercial cleaners, Jan-Pro of Columbus released a quick tip sheet educating consumers on health risks and property damage caused by conventional household cleaners.
Jan-Pro of Columbus' Operations Manager Nathan Calhoun advises consumers, "There's a common misconception out there that your office space, restroom and even your home isn't clean unless it smells like vanilla cupcakes, pumpkin patches or snuggly linen teddy bears. We all know what we don't want it to smell like … but the truth is, clean has no scent at all. "
Calhoun adds, "With cheaper ammonia based house-hold cleaners such as bleach (which by the way actually has a short shelf life), two major hazards come into play: unintended health risks and damage to protective floor finishes. In addition, these products are not always effective."
As a leader in Columbus daycare janitorial service, Jan-Pro works in facilities in which children and exposure to harmful chemicals are a primary concern. Calhoun suggests, "As parents and adults, we have to continue to educate ourselves on the products we're using, specifically in the cleaning industry, because we use them every day and they are so potent."
Jan-Pro of Columbus Tip Sheet for Knowing Household Cleaning Ingredients includes:
1. Volatile Organic Compounds (VOCs) are common in conventional household cleaners and air fresheners. These compounds are emitted as gases, linger in the air for long periods of time and include a variety of chemicals, some of which may have short- and long-term adverse health effects.
2. Phthalates (thal-ates) are stabilizers common in approximately 75% of ALL heavily scented products. Known as endocrine disruptors, phthalates mimic the body's reproductive hormones and have been labelled by the FDA as probable carcinogens due to links to breast cancer and infertility.
3. Fragrances are collectively considered among the top five allergens in the world (de Groot 1997; Jansson 2001). Fragrances can also trigger asthma attacks (Norback 1995; Millqvist 1996).
4. Ammonia based cleaning products (whether scented or unscented) such as bleach actually break down the protective polymer (wax) finish or sealant that is applied to most types of commercial flooring such as VCT (vinyl composition tile).
5. Wall based air freshener sprays also cause damage to floor finishes in addition to the staining of painted dry-wall.
Calhoun suggests, "Jan-Pro of Columbus uses Spartan's HDQ or NABC, quality hospital-grade disinfectants. These products possess unique chemical makeup and very specific dwell time during application and, therefore, do not need powerful scents to undo any foul odors. The science of our chemicals is their strength….not any false notes of rose gardens!"
For more information on janitorial services in Columbus, Ohio, contact Jan-Pro at 614-501-3850 or visit http://www.cleaningcolumbusohio.com
More on Jan-Pro of Columbus
Jan-Pro of Columbus offers commercial cleaning services throughout the Columbus, Ohio area. Through the Jan-Pro Process®, the company provides the highest quality, most up-to-date, professional commercial cleaning service at the best possible price.
This press release was crafted and distributed by Green eSolutions. Green eSolutions is an internet marketing team of professionals with a passion for technology, design, brand awareness, and innovative strategies for reaching audiences throughout the country.