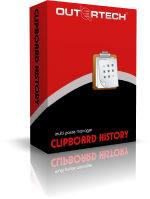 I wish I had the presence of mind to make a list of the neat tools I found that ultimately were acquired or copied by Microsoft. Clipboard History is probably going to be one of them. It's extremely useful, easy to use, and very affordable. JonPeddie.com
Coburg, Germany (PRWEB) August 24, 2015
Clipboard History Pro 3.0 is a Windows clipboard manager featuring optional cloud synchronization and AES encryption. With Clipboard History Pro users can keep a repository of texts that they have copied to the clipboard before. Additionally, frequently used word phrases and snippets called stickies can be added to the global paste menu. Pressing a configurable hotkey, a tray icon, or the usually idle and useless CAPS LOCK key will bring up a paste menu of last clipboard items and saved text snippets. When using the hotkey or the CAPS LOCK key the clipboard history paste menu will be available in every Windows application.
Download Clipboard History Pro at http://www.outertech.com/en/clipboard-manager
With Clipboard History Pro it's easy to set up clipboard content synchronization between multiple computers in less than a minute. The software has built-in support for Dropbox, Google Drive, OneDrive, and others. The synchronization process will also work perfectly in multi-user environments, even if several users add text to the clipboard at the same second. Best of all, Clipboard History Pro safeguards data using AES encryption.
At the heart of Clipboard History is a handy archive feature. Every text ever copied to the clipboard can be stored away for future use. A powerful JSON database guarantees a high level of security and performance. Clipboard History has been vested with more than 1 million data records in the text archive. The archive can be searched by text and date. Search keywords can be combined and even excluded with the "-" sign. A search for foo -bar will find all archive items that contain the text foo, but don't contain the text bar.
Version 3 adds Rich Text Format and Windows 10 support.
Clipboard History Pro starts at $24.95(US) for a single computer license. A less advanced version is also available as freeware. Both editions can be downloaded at: http://www.outertech.com/en/clipboard-manager
Journalists may request a reviewer's license by contacting press@outertech.com
System Requirements: Windows 10, 8.1, 8, 7, Vista or XP (32 and 64 bit)
Clipboard History Pro is available in English, German, French, and four other languages.
About the Company
Incorporated in 1999, Outertech™ is a software development company based in Coburg, Germany. Its mission statement: 'To make computers more stable, more useful, faster, and easier to use.' Outertech´s lead products include Cacheman (short for Cache Manager), an award-winning Microsoft Windows performance optimization program initially developed in 1996 as the very first Windows optimization software ever. Cacheman is currently available as version 10 with Windows 10 support. Linkman (short for Link Manager), another exciting Outertech product is a bookmark manager that integrates with the Firefox, Internet Explorer, Chrome, and Opera browsers. Initially released in 1997, Linkman´s optionally password protected XML databases have been praised for more than 15 years of bookmark data security.