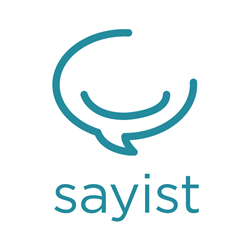 Sayist brings sight, sound, and motion to classifieds. Users can view and post video resumes, videos of used cars, electronics, pets up for adoption, and companies can display company culture videos with their job postings.
Seattle, WA (PRWEB) August 05, 2015
Sayist (Sayist Inc.) announced today the launch of it's video classifieds website, Sayist.com. The website aims to enhance the experience of classifieds by allowing users to view and post classified ads with video. Among many other features and a modern UI, users have the freedom to #hashtag their classified posts (ex. #OneBedroom, #UsedCar, or #MarketingJob) for optimized search and sharing to Facebook and Twitter in hopes to bridge the gap between classifieds and social media. Users can also post traditional classified ads with photos or no media through four simple steps. The free service will initially be available to the Greater Seattle community, with plans to expand to other major US cities within the next six months.
To fight against human trafficking, Sayist has taken the responsible action to eliminate adult services and personal ads from it's platform. By taking this stance, it allows users to feel confident that they are utilizing socially responsible classifieds. This also deprives predators the ability to advertise and exploit on Sayist.
"Today's classifieds are boring, they haven't changed since the late 1990's. Current classified websites haven't incorporated the latest tech trends that users are accustomed to and now expect. At Sayist, we've built a website that focuses on creating an enhanced user experience for classifieds, by allowing users the ability to post with video, hashtag it, and share on social media." - Bryan Brzeg, Co-Founder and CEO
"If you can hashtag your Instagram photos or your Facebook status updates and make them go viral, why can't you do the same with your classified posts? Let's change the way you see classifieds with Sayist." - Michele Liang, Co-Founder and COO
Founded in 2014 and based in Seattle, WA, Sayist's mission is to create the next generation of classified ads - all for the purpose of helping communities connect through an elevated experience with social, mobile, and video. The Sayist iOS and Android app will launch in Fall 2015. At Sayist, we consider ourselves a brand of innovators - one that inspires self-starters around the world to do the same and create change.
To learn more about Sayist and its features visit the Our Story Page and Features Page.