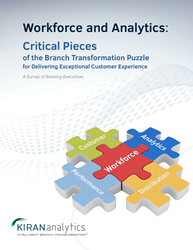 "The two most critical branch transformation priorities are workforce optimization and technology deployment."
San Diego, CA (PRWEB) August 07, 2015
Kiran Analytics – a leader in intelligent branch transformation – announced today the release of its survey findings report on workforce strategies for delivering exceptional customer experience. The report covers what retail banks consider top branch transformation priorities and workforce challenges. It also highlights what leading banks are doing to meet those challenges using analytics. A key finding from the survey was that the two most critical branch transformation priorities are workforce optimization and technology deployment.
Kiran Analytics' survey of retail bankers was conducted between March and June of 2015. The respondents from 37 banks were well represented with respect to branch network size, role, and job functions. About 60% of the survey participants were executives (C-level, EVP) or senior (SVP) managers. Respondents had various job functions involved in branch transformation such as strategy, distribution, customer experience, sales, finance, HR, product development, marketing, and analytics.
"Leading banks are far beyond the point of debating whether branches are dead or alive. Branches remain their key delivery channel for customers. So, those banking executives are focused on aligning their branch workforce with customers' use of the channel," said Jim DeLapa, CEO of Kiran Analytics.
Seventy percent of the Kiran survey respondents said reducing tellers, retraining them for universal banker roles, and hiring new universal bankers were their top strategies to align the workforce with distribution strategy. DeLapa added, "Universal bankers, staff capable of handling customer service and sales interactions as well as performing traditional teller transactions, is a popular staffing model. It provides the branch managers with the flexibility to have the right person in the right place."
As for workforce challenges, 68% of the surveyed banking executives pointed to turnover as a top challenge. Other two key workforce challenges were quality of hires and understaffing. The top three workforce challenges are closely related in retail banking. Hiring the wrong people or lack of talent availability leads to high employee turnover. Rampant turnover makes it very hard for recruiters and branch managers to keep the branches properly staffed. Understaffing leads to longer than reasonable customer wait times, lost sales opportunities, and employee turnover.
Kiran Analytics' report showed that only half of the surveyed banks utilize analytics for workforce decisions. Mr. DeLapa said, "Analytics can provide valuable insights in applications such as talent acquisition and workforce optimization. Yet, technology adoption of analytics for workforce has been slow in retail banking. Leaders are using predictive and prescriptive analytics to improve quality of hires, reduce employee turnover, and reduce under-staffing. The impacts are improved customer experience, increased sales effectiveness, and increased operational efficiency."
Click here to read the survey findings report.
About Kiran Analytics
Kiran Analytics drives intelligent branch transformation for retail banks through the application of predictive analytics. Kiran's solutions have been deployed in over 10,000 branches helping to forecast optimal branch staff levels accurately, hire better people faster, and to plan and schedule resources efficiently. As a result, retail banks increase sales and customer service while reducing operational costs. Our customers have saved tens of millions of dollars annually by transforming their recruiting, resource capacity planning, and branch staff optimization processes.