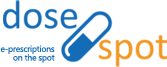 DoseSpot was easy to integrate and their client engagement team provided excellent technical support throughout the e-Prescribing integration process
NEEDHAM HEIGHTS, MA (PRWEB) August 06, 2015
DoseSpot, an industry leader in e-Prescribing integration platforms for medical, dental and telehealth software, today announced that Dentaweb, a web based total Dental Practice Management solution, has successfully integrated DoseSpot. Through the partnership, Dentaweb successfully completed Surescripts certification and their dentists can now e-Prescribe controlled and non-controlled prescriptions to more than 65,000 pharmacies nationwide.
Dentaweb is a flagship brand of American Management Group, LLC, an IT driven company providing innovative, efficient and reliable solutions in the field of Dental Practice Management to more than 150 dental practices. The DoseSpot Dental platform has been a top choice for dental software companies due to DoseSpot's quick e-Prescribing integration plans and excellent customer support. The DoseSpot Dental platform not only meets the needs of dental software companies, but it also provides general dentists and specialists with a simple and intuitive user interface for e-Prescribing controlled and non-controlled prescriptions.
"The 2014 Surescripts National Progress Report highlighted that while 73 percent of pharmacies nationwide are equipped for e-Prescribing of Controlled Substance (EPCS), only 1.4 percent of prescribers are equipped to send them", said Greg Waldstreicher, CEO, DoseSpot.1 "We are excited to see DoseSpot fully integrated with Dentaweb so their dentists can take part in safely and securely sending controlled substances electronically."
Last year, DoseSpot completed a third-party EPCS audit with Drummond Group Inc., a global software test and certification body that was approved by the Drug Enforcement Administration (DEA) to audit EPCS software applications. Through DoseSpot, Dentaweb also successfully completed an EPCS integration review by Drummond Group Inc. and dentists located at all Dentaweb clinics can now e-Prescribe controlled substances.
"DoseSpot was easy to integrate and their client engagement team provided excellent technical support throughout the e-Prescribing integration process", said Vinay Pandya of Dentaweb. "In addition, Dentaweb is proud to be associated with DoseSpot and we are excited to offer e-Prescribing to our dental providers."
For more information on DoseSpot's EPCS software, please visit http://www.DoseSpot.com or contact Lindsay Walsh, Lindsay(at)dosespot(dot)com.
About Dentaweb
Dentaweb headed by CEO Arun Savani is a web based total Dental Practice management solution offering software as a service in the areas including Dental Practice Management, Revenue Cycle Management, Financial Reporting and Practice Performance Management.
About DoseSpot
DoseSpot is a Surescripts certified e-Prescribing platform specifically designed to integrate with electronic health record, electronic dental record, practice management and telehealth software. DoseSpot is certified to e-Prescribe controlled substances and has provided simple, affordable and integratable e-Prescribing solutions to healthcare IT companies since 2009. For more information, please visit http://www.DoseSpot.com.
References
1. Surescripts "2014 National Progress Report." 2015. Available at http://surescripts.com/docs/default-source/national-progress-reports/surescripts-2014-national-progress-report.pdf.