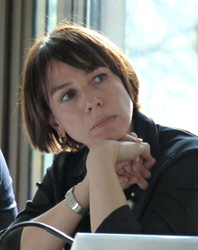 Alessandra Zampieri is a leading expert on maritime security affairs affecting the European Union and other regions
(PRWEB) August 05, 2015
A leading European Commission expert on a range of global maritime security topics has joined the distinguished panel of speakers at the Qatar Maritime Security - Coastal and Border Surveillance Conference (QMARSEC).
The third annual QMARSEC conference will take place on 28 October 2015 at the Ritz Carlton Hotel in Doha, Qatar under the theme "The Future of Automatic Identification System (AIS) Technologies and Deployments." This year's event will focus on all aspects of border and maritime security, with a special emphasis on the technologies, sensors, and identification systems that are a key component of border protection programs.
"Alessandra Zampieri is a leading expert on maritime security affairs affecting the European Union and other regions," said Staff Brigadier (Pilot) General Mohammed Al-Mannai, Director of the National Shield Project of Qatar. "I am pleased that she will be lending her experience to our panel of distinguished speakers."
Alessandra Zampieri is the Head of Unit responsible for Maritime Affairs at the European Commission's Joint Research Centre (JRC). She joined the JRC after spending several years in Brussels formulating policies related to maritime safety and security, first in the competent Commission services and then in the Cabinet of Vice President De Palacio. Now at the JRC, she is tasked to support a range of decisions affecting policy and operations in areas affecting border control, space, anti-fraud, technology and defense, and international cooperation for the efficient use of ocean resources.
"I look forward to joining the distinguished panel of speakers at QMARSEC 2015," said Ms. Zampieri. "This Qatari event brings together a global panel of experts that is truly unique, especially in the area of European and Arabian Gulf cooperation in maritime security and border control issues."
The annual QMARSEC conference provides a forum that encourages information sharing and cooperation among military, government, industry and academic maritime security experts from around the world.
The conference encourages the development of joint endeavors, particularly new technologies, in order to deepen and enhance inter-agency cooperation and collaboration to mitigate future security threats.
For more information please visit the QMARSEC website at http://www.qmarsec.com/