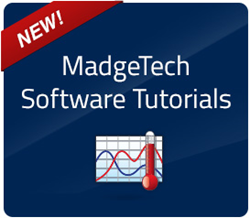 Warner, NH (PRWEB) August 10, 2015
This first collection of videos focuses on installing the software as well as basic functionality such as communicating with the data loggers, creating simple reports and exporting data to Excel. All videos can be viewed on MadgeTech's Video Tutorials page, or on the MadgeTech YouTube page.
Maximize workflow efficiency for all data logging processes with this feature packed software. This first collection of training videos will provide users with a visual demonstration and brief overview of the tools and functionality available in the MadgeTech Data Logger Software. Additional videos are also available for advanced use and specific feature configuration.
The latest version of the MadgeTech 4 Data Logger Software can be downloaded from the MadgeTech website at madgetech.com/software. For applications that require a higher level of security, MadgeTech also offers Secure Data Logger Software for compliance with 21 CFR Part 11. The secure software bundle includes IQ/OQ/PQ protocols to document and ensure that the software has been properly installed and is working correctly.
For more information on MadgeTech's extensive data logger offerings, or the comprehensive data logger software, contact the technical sales staff at sales(at)madgetech.com, or (603) 456-2011.
Check back for more video tutorials on advanced features and reporting capabilities.