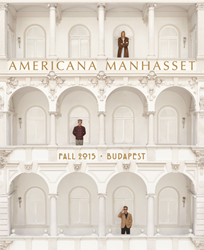 Wes Anderson's style felt particularly relevant this season, with a geek-chic, retro sensibility ruling the runways. Budapest was the perfect choice as a location for the campaign.
Manhasset, NY (PRWEB) August 10, 2015
Fall ready-to-wear, accessories and jewelry from the most luxurious brands in the world are captured in Americana Manhasset's high-style picture book starring top runway and editorial models Lexi Boling and RJ King.
The campaign was inspired by the eccentric filmmaking style of Wes Anderson. It was photographed in various locations in and around Budapest, including the Chain Bridge along the Danube River, Callas Cafe and the famous Gellert Hotel and Bath House. The dramatic architectural aesthetic particular to this part of the world is also evident throughout. Photographed, produced and styled by Laspata/DeCaro, the campaign pays homage to the quirky, highly designed and stylish sensibility of Anderson's films. Lexi Boling channels Gwyneth Paltrow as nerdy-cool Margot in The Royal Tenenbaums and RJ King calls to mind Ralph Fiennes as the dapper concierge, M. Gustave, from Grand Budapest Hotel.
Americana's Fall Book is direct-mailed to 130,000 targeted households. The images are being featured in national and regional print ads in publications such as The New York Times and T-Styles magazine and The World Journal newspaper, as well as in various digital media such as nyt.com. The campaign is also being shown prominently throughout the season on Americana's website, americanamanhasset.com and featured on Americana social media outlets.
In conjunction with the still images, Americana Manhasset has debuted a short film, entitled "Welcome to Budapest." Idiosyncratic and sophisticated, the piece stars Lexi Boling and RJ King along with a charmingly peculiar Hungarian bellman. Featuring custom music and a retro vibe, the video evoke's the feel of a Wes Anderson movie. It appears front and center on Americana's website as well as in digital ads. The music and editing of the video exemplify the edgy and highly editorial quality of the campaign.
"With every new film he makes, Wes Anderson becomes more and more iconic. His style felt particularly relevant this season, with a geek-chic, retro sensibility ruling the runways. Budapest was the perfect choice as a location for the campaign, being that it both references his latest film and also has incredible architectural elements that enhanced that retro vibe," said Charles DeCaro. "As always, while we had a very clear editorial voice and a strong vision for this campaign, it is the fashion and respective designers' messages that remain the focus. We shoot a singular and appropriate photograph for each brand, from Gucci and Dior to Max Mara and Theory, but each image also works as part of the whole."
Americana Manhasset is a premier collection of over 60 fine shops, including Hermès, Chanel, Louis Vuitton, Gucci, Cartier, Ermenegildo Zegna, Van Cleef & Arpels, Bottega Veneta, Hirshleifers, Ralph Lauren, London Jewelers and more, all within a unique outdoor environment designed by renowned architect Peter Marino and landscape designer Oehme van Sweden. Americana Manhasset offers a complimentary Personal Shopping Service, a remarkable luxury fashion and gift resource. Located on Long Island's beautiful North Shore, Americana Manhasset is 20 miles from Manhattan and 50 miles from the Hamptons.
Follow Americana Manhasset on Instagram, Twitter, and YouTube, like our Facebook page and check out our Blog!