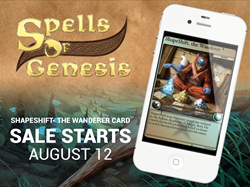 Switzerland (PRWEB) August 11, 2015
Upcoming trading card/arcade game, Spells of Genesis (SoG), has released a limited quantity of a unique game card inspired by the instant cryptocurrency exchange, ShapeShift.io. The scarce digital asset, named "ShapeShift- The Wanderer," will have a limited quantity of 100 cards available for purchase via the ShapeShift.io exchange, starting August 12-September 9th, with 25 new cards being released for sale every week for the four week period.
The cards will be sold at ShapeShift.io and can be purchased with bitcoin or 40+ other leading cryptocurrencies. The card exists on the Counterparty platform, which utilizes the Bitcoin blockchain to track creation and transfer of digital assets.
SoG will release only 1,000 of "The Wanderer" card, the scarcity of which is maintained by the blockchain, an immutable ledger gaining attention throughout the tech and finance world as a groundbreaking new technology.
Specifically, "The Wanderer" card allows players to convert their opponents used "power" points into "life/health" points. The player with the most life/health points at the end of the round wins, thus playing the card can greatly affect the outcome of a game. Regardless of how many players sign up for Spells of Genesis, no more than 1,000 of these cards will ever exist, giving them monetary value. The cards can be traded just like Bitcoin and other cryptocurrencies between any two people on Earth.
"Digital goods in games have always had fake scarcity," explains ShapeShift's CEO Erik Voorhees, "the company can always create more, and nobody really knows how many exist, making it impractical to value or price. These blockchain-based digital assets, however, are truly mathematically scarce, and will become commoditized and traded like other financial assets. Spells of Genesis is breaking exciting new ground and we're thrilled to be working closely with them."
The ShapeShift Wanderer cards can also be used on Everdreamsoft's popular mobile game, Moonga.
About ShapeShift.io:
ShapeShift is a crucial piece of infrastructure in the world of Bitcoin. From start to finish, users can exchange digital currencies in seconds, with no account required. No emails or passwords. No lengthy sign­up process. No accounts. No bid and ask orders. No friction. ShapeShift's goal is to be the fastest, safest, and most convenient way to swap digital assets. See more at: https://shapeshift.io
About Spells of Genesis (SoG):
Spells of Genesis (SoG) is an upcoming trading card/arcade game, from Swiss-based company EverdreamSoft, which will integrates bitcoin and blockchain technology in its game economy as well as its storyline. It is targeted for release in late 2015 for iOS and Android devices. Learn more here.
About EverdreamSoft:
EverdreamSoft is a Swiss-based company specialized in the development of casual and online trading card games for smartphones giving communities of gamers the possibility to interact and contribute to the development of these games. EverdreamSoft's main game is a Free-to-play trading card game named Moonga available on iOS and Android. Since its launch in 2010, more than 250,000 people have already registered. Using this successful experience and with the help of a global network of renowned illustrators, EverdreamSoft is now working on the development of new casual and trading card games as well as bitcoin integration in games. The company is also currently exploring the field of New Technologies (NFC and Geolocation) and new ways to bring them to the world of entertainment and design. More information, click here.