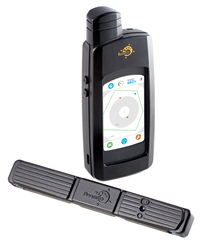 It was a simple premise--when you have fun, your pet has fun--that was at the core of our effort to create a product that will keep pets safe.
Minneapolis, Minnesota (PRWEB) August 10, 2015
PetTronix has introduced the RoamEO SeekR, a subscription-free pet tracking system designed for pet owners who share an active lifestyle with their pets. Pets have become a part of the fabric of America: recent statistics show that almost 70% of households across the US now own a pet. At the same time, Americans' attitudes toward their pets have changed: most pet owners now regard their pets as part of the family and include them in as many activities as possible. The RoamEO SeekR helps today's new generation of pet owners share their adventures with their pets—from family vacations to weekends at the cabin to everyday outdoor activities in the back yard—all while keeping pets safe and providing pet owners peace of mind.
"The RoamEO SeekR was designed with the idea that we are at the intersection of affordable technology and an emerging lifestyle trend," stated Mark Mitchell, the President of PetTronix. "Pet owners are more passionately committed to their pets than ever before. The positive impact of pet ownership on human health is better understood and this is driving how we interact with our pets. Recognizing that pet owners are spending more time and doing more things than ever before with their pets, our objective was to design a product that allowed pets to be included in as many activities as practical. It was a simple premise—when you have fun, your pet has fun—that was at the core of our effort to create a product that will keep pets safe."
The SeekR includes many new features that allow pet owners the ability to track their pets in almost any situation, from running in the backyard to hiking in the back country. The system uses GPS technology to generate precise location data and updates this data every few seconds. The user has the option to select from two different tracking screens as well as multiple GPS fence options for creating a geo-perimeter of any size and shape. Also new is the ShadowFence option, a circular GPS perimeter that moves with the user—great for situations when both the owner and their dog are active. All of these features are easily selectable from a touch-screen color LCD. The waterproof Collar Transmitter attaches to the dog's existing collar and is designed for operating in the harshest environments.
"We felt strongly that a critical design feature was a subscription-free system," said Jeff Gigler, Vice-President of International Sales. "Almost all tracking systems on the market today are based on web apps. We certainly recognize that our mobile devices have an important place in our lives and allow us to do a limitless number of things, including tracking our pets. But for this particular application, we wanted to make sure we could offer pet owners the lowest cost of ownership—we didn't want our customers worried about monthly charges that go on for as long as they own a system. Our goal was to keep it simple and eliminate the cost and extra burden of managing another data plan."
PetTronix will begin shipping systems to US customers in late August and is accepting pre-orders on their website now. The system includes a Handheld Receiver, a Collar Transmitter and a USB charging kit. The Company is currently working on the required EU and Canadian certifications and will begin shipping to customers in these countries later this year.
To learn more about the RoamEO SeekR, visit http://www.PetTronix.com.