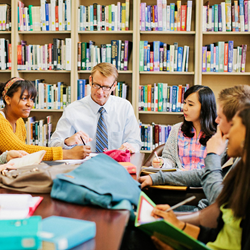 We chose Vanguard University and the other outstanding institutions on this list primarily for their excellent academics.
Costa Mesa, CA (PRWEB) August 07, 2015
Vanguard University is one of the best colleges in the West according to The Princeton Review. The well-known education services company lists the college among its "Best in the West" recommended schools in its "2016 Best Colleges: Region by Region" website feature that posted on August 3, 2015. The feature is accessible online—only 125 colleges in fifteen Western states made The Princeton Review's "Best in the West" list for 2016.
In its website profile on Vanguard University, The Princeton Review describes the college as "a liberal arts school, characterized by its Christian atmosphere," and commends it for "focusing on students' personal development and sense of community on campus." "We chose Vanguard University and the other outstanding institutions on this list primarily for their excellent academics," said Robert Franek, The Princeton Review's Senior VP-Publisher. The Princeton Review editors made their selections based on data the company collected from its survey of administrators at several hundred colleges in each region, as well as its staff visits to schools over the years, and the perspectives of college counselors and advisors whose opinions the company solicits.
"We also gave careful consideration to what students enrolled at the schools reported to us about their campus experiences on our student survey for this project," Franek added. "We designed our 80-question survey to include questions that prospective applicants might ask on a campus visit. Only schools that permit us independently to survey their students are eligible to be considered for our regional 'best' lists, and only schools at which we see a strong level of satisfaction among their enrolled students – whom we consider their customers – make it to our final slate of regional 'best' college selections."
"I am thrilled that Vanguard University is being recognized by The Princeton Review as an all-around outstanding academic institution," said Vanguard University President Michael Beals. "Acknowledging Vanguard's unique focus on professor-mentors, academic rigor, and Christ-centered learning, this esteemed recognition affirms that Vanguard is one of the finest Christian universities in the state."
The Princeton Review survey asks students to rate their colleges on several issues –from the accessibility of their professors to the quality of their science lab facilities – and answer questions about themselves, their fellow students, and their campus life. Comments from surveyed students are quoted in the school profiles on The Princeton Review site. Some student comments in the profile on Vanguard University are that "professors try their best to make themselves available outside the classroom, and actually care about your academic and career achievements."
Collectively, the 649 colleges on The Princeton Review's "regional best" lists constitute about 25% of the nation's 2,500 four-year colleges. The Princeton Review does not rank the 649 colleges, either overall, by region, or in various categories. However, some schools on the "regional best" lists that also appear in The Princeton Review's book, The Best 380 Colleges: 2016 Edition, appear on some of the company's 62 ranking lists of "top 20 colleges" that are published in that book. All of those ranking lists are based entirely on the company's surveys of students at the 380 schools in the book.
The 125 colleges that The Princeton Review chose for its "Best in the West" 2016 list are located in fifteen states: Alaska, Arizona, California, Colorado, Hawaii, Idaho, Montana, Nevada, New Mexico, Oklahoma, Oregon, Texas, Utah, Washington, and Wyoming. The Princeton Review also designated 225 colleges in the Northeast, 159 in the Midwest, and 140 in the Southeast as best in their locales on the company's "2016 Best Colleges: Region by Region" lists.
The Princeton Review is an education services company known for its tutoring, test-prep courses, books, and other student resources. The company is not affiliated with Princeton University.
For more information on Vanguard University, visit http://www.vanguard.edu.
About Vanguard University
Vanguard University (VU) is a regionally ranked, private, Christian university of liberal arts and professional studies. Located ten minutes from Newport Beach and an hour from Los Angeles, Vanguard equips students for a Spirit-empowered life of Christ-centered leadership and service. Vanguard is committed to academic excellence, boasting small class sizes that are designed to cultivate lasting professor-mentor relationships that enhance the learning process. The U.S. News & World Report ranked Vanguard a top 12 regional college in the west and a top veteran-friendly college for 2015, and The Princeton Review ranked Vanguard a 2016 "Best in the West" regional college. Accredited by the WASC Senior College and University Commission, Vanguard offers more than 30 degrees and certificates through its undergraduate, graduate, and professional studies programs. Please visit http://www.vanguard.edu
About The Princeton Review
The Princeton Review is a leading tutoring, test prep and college admission services company. Every year, it helps millions of college- and graduate school-bound students achieve their education and career goals through online and in person courses delivered by a network of more than 4,000 teachers and tutors, online resources, and its more than 150 print and digital books published by Penguin Random House. The Princeton Review is headquartered in Natick, MA and is an operating business of IAC (NASDAQ: IACI). For more information, visit http://www.princetonreview.com. Follow the company on Twitter @theprincetonrev.
###