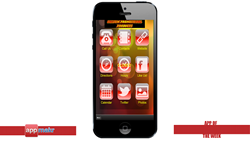 It's amazing how the CPP had really harnessed the power of mobile technology to service their customers.
New York, NY (PRWEB) August 08, 2015
AppMakr, a leading DIY mobile app builder, today announced that the CPP is the company's "App Of The Week" for June 14th - 20th.
Each week, AppMakr features one app from the thousands published using our app building tool, called The Machine. This app was selected because it demonstrates the quality of content, design and relevancy that mobile apps can bring to groups trying to make a difference in their community.
With more than 1 Billion smartphones now active in the world, 84% of those users are spending at least 1 hr each day on their smartphones, the base on potential mobile customers for the CPP is massive and growing quickly by the day. It was this potential that motivated AppMakr to create an easy drag-and-drop app builder platform that enables anyone to create an app like the CPP without the knowledge of coding.
The CPP and thousands of small to large businesses, schools, blogs, sports teams and community groups have selected the AppMakr DIY app maker platform to create and launch their mobile app for Android, iPhone and over 5,000 different models of HTML5 compatible smartphones.
The CPP app was launched to update their customers with Custom Promotional Products' latest deals and specials. Included in the app are CPP's phone number, email and messaging tools where users can communicate with them with convenience.
Through this app, users can also get directions to CPP's store from anywhere across Harrodsburg, Kentucky. They also have an interactive hour feature that update their business time and shows a quick view if they are open or closed.
Quick links to their Facebook page and Twitter feed are also included in this app. CPP also uploads images and photos of their most popular items frequently using their photos feature, so users are sure to stay up to date with the latest styles and fashion.
To create your own mobile app, and have a chance at being named App Of The Week, go to http://www.appmakr.com/ and get started today.
About AppMakr
AppMakr is the largest DIY mobile app creation platform in the world providing a range of affordable marketing solutions to all small businesses, schools, community groups and individuals. By servicing the long-tail of niche interests with low-cost apps, AppMakr has become the largest DIY publisher of mobile apps in the world. The platform creates true native iPhone and Android mobile apps, as well as HTML5 mobile websites compatible with thousands of smartphone models. Available in 15 languages for as little as $1/month, with hundreds of ways to customize your new mobile app. Functions include: Social Feeds, Live Video Streaming, Live Chat Rooms and the ability to secure apps through private access and content filters. AppMakr is the easiest way to mobilize your business, blog or community group.
To learn more about how AppMakr is transforming the Mobile App Economy, please visit http://www.appmakr.com and follow https://www.facebook.com/AppMakr on Facebook as well as @AppMakr on Twitter.
About CPP
Custom Promotional Products offers personalized gifts for the holidays. People can also get their new business name out there with their top of the line screen printing, business cards, pens, magnets etc. Their app was launched to update their customers with the latest deals and specials.
To download the CPP app for your mobile phone, go to: http://apps.monk.ee/cppky
To learn more about Custom Promotional Products please visit: http://www.showyourad.com/