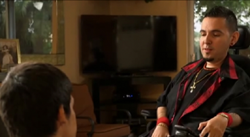 I feel that life has guided me here.
Palm Beach Gardens, FL (PRWEB) August 27, 2015
Juan Carlos Morales was told by doctors that he wouldn't live past his teenage years. But Juan, who has Muscular Dystrophy, a form of Muscular Atrophy, proved them all wrong. He turned 30 this year and has a thriving career as a psychologist working with at-risk teenagers. "Life has a purpose and I need to fulfill mine," he said.
Spinal Muscular Atrophy is a disease that affects the motor nerve cells in the spinal cord and takes people's physical strength. SMA is caused by a gene mutation. In healthy individuals, the gene produces a critical protein for the function of nerves that control muscles. Without it, those who deal with SMA and muscular dystrophy are subject to muscle weakness and progressive weakening and wasting of the muscles.. To find out more about SMA Awareness Month, visit http://www.mda.org/quest/august-sma-awareness-month.
Juan was referred to Vocational Rehabilitation (VR) when he was a senior in high school where he met with VR Counselor Julie Emerson. Together, they made a plan for his future. Having dreamed of becoming a rap artist since high school, VR paid Juan's tuition to Broward Community College so he could train as a recording engineer. VR helps people with disabilities get or keep a job.
Along the way, he changed his mind and decided his long-term goal was to help others. He transferred to Florida International University (FIU) where, with help from VR, he completed his bachelor's degree in psychology. He continued at FIU on his own dime and received his master's degree in counseling psychology. Juan was honored to be nominated by the president of FIU as a "Worlds Ahead Graduate," which is presented for outstanding achievement and great dreams for the future.
It was during an internship for school that Juan first worked with adolescents and discovered that he loved the way they opened up to him. He knew it was where he belonged. Juan now works at the Regis House, a Commission on Accreditation of Rehabilitation Facilities (CARF)-accredited facility that works with at-risk teenagers with drug and behavioral problems. He provides group and individual therapy and also prepares reports for court hearings. "I love it and want to do more of it," Juan said. "I feel that life has guided me here."
Juan is also a private life coach. Most of his customers are adolescents who come to him as a result of word of mouth recommendations. He served as the local ambassador for the Muscular Dystrophy Association and made an appearance each year during their annual telethon. He attends numerous events and is a motivational speaker for firefighters. He balances his work and social life well, all while maintaining a positive attitude.
VR provided Juan with support for his bachelor's degree and vehicle modifications. Without the support of VR and his counselor, he wouldn't be where he is today. "Julie is an awesome angel who makes things work out," he said.
You can watch Juan Carlos' motivational speaking videos at https://www.youtube.com/results?q=liveorletdiepsychology&sp=QgIIAQ%253D%253D.
About Vocational Rehabilitation
Florida's Vocational Rehabilitation (VR) is a federal-state program committed to helping people with disabilities become part of America's workforce. The employer-focused website, https://abilitieswork.employflorida.com/, allows businesses to search at no charge for employees who are ready to go to work, as well as to post available jobs. VR has 90 offices across Florida, and last year helped 5,760 Floridians with significant disabilities find or keep a job. For more information about VR and its services, call (800) 451-4327 or visit http://www.Rehabworks.org.