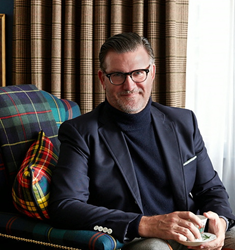 San Francisco, CA (PRWEB) August 11, 2015
Style icon and acclaimed interior designer Scot Meacham Wood is delighted to announce the launch of his luxury lifestyle brand, Scot Meacham Wood Home. Inspired by the romance of the Scottish countryside and his own Southern heritage, Scot has curated a one-of-a-kind collection of textiles, trimmings, upholstered furnishings, antiques, artwork, Victorian Tartanware, and home accessories.
SMW Home marks Scot's evolution from an interior designer into a lifestyle brand influenced by his formative years at Ralph Lauren, the design atelier where he honed his creative talent for thirteen years. While SMW Design will continue to service clients' interior needs, Scot Meacham Wood Home will serve as a natural extension of Scot's design aesthetic and personality.
Highlighting goods imported from a historic, family-owned mill in Scotland dating back to the late 1770s, SMW Home's fabric collection features 50 sumptuous fabrics--tweeds, tattersalls, and tartans--in three different color palettes. Scot has updated the classic textiles for today's modern home with shocking yellows and regal purples that reflect the designer's Southern roots yet still pay homage to the country's rich history and traditional colors.The fabrics are 100% wool and range in retail price from $195 to $215 per yard.
A pattern that has become synonymous with Scot's design identity, the tartan textiles are the collection's signature style. Although grounded in tradition, the tartans play with scale in order to accommodate larger interior elements such as drapery and upholstered goods.
In addition to the fabric collection, Scot's lifestyle collection features custom-dyed fringes and trims, a selection of upholstered furniture, decorative pillows, throws, home accessories, and a curated collection of antiques, artwork, and Victorian Tartanware.
SMW Home's collection will debut September 2015 at HEWN San Francisco at the San Francisco Design Center during the Fall Into Fabrics celebration and will be available online both retail and to the trade at http://www.scotmeachamwoodhome.com.
About Scot Meacham Wood
Native to the South but rooted in Scotland, Scot Meacham Wood is recognized for both his timeless design and captivating persona. Pulling from his cultural background and 13 years of experience working with Ralph Lauren, Scot has created an influential style that he describes as a combination of gracious 'expected' with some whimsical 'surprise.' Established in San Francisco, the respected designer maintains a strong presence in the design industry as well as the online community. Thanks to his European style and Southern hospitality, Scot Meacham Wood can certainly light up a room.