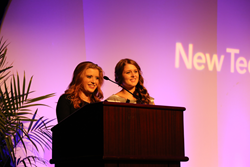 "Maurie and Heidi exemplify the types of students who graduate college and career-ready from New Tech Network schools. They have developed knowledge and thinking, communication, collaboration and personal agency skills,"said Dobyns.
Napa, CA (PRWEB) August 10, 2015
New Tech Network (NTN) announced at its annual national conference (NTAC) held in Chicago, Illinois, that two Compass Academy Students from Idaho Falls, Idaho, had been chosen to keynote the closing session of the conference held July 20-24, 2015.
This year's conference theme was: Are they Ready -- Preparing All Students for College, Career and Civic Life. 1800 teachers, principals, superintendents, alumni and students attended the conference. Students from the national school network applied for this speaking opportunity. According to Lydia Dobyns, President and CEO of New Tech Network, preparing students with the academic knowledge and the skills to apply that knowledge are important outcomes that all students need to succeed in post-secondary paths.
"Maurie and Heidi exemplify the types of students who graduate college and career-ready from New Tech Network schools. They have developed knowledge and thinking, communication, collaboration and personal agency skills highly valued by colleges and employers," said Dobyns.
Students Schwicht and Cunningham are seniors at Compass Academy. This is the second consecutive year that student speakers from the Idaho Falls school have been honored with this selection. Students Silas Wright and McKenna Petersen represented student voices at the 2014 closing session for NTAC last year.
"We couldn't be prouder that our students have been chosen to close this prestigious event. Educators from all over the country gathered to hear our students speak about the skills they will need to navigate life," said Principal Matt Bertasso.
For Cunningham and Schwicht, this is the first time either student had visited Chicago, much less presented to an international audience.
"We've always had such amazing support and always been challenged from our teachers, and peers. We thank them immensely for their feedback, and dedication to helping all of us at Compass Academy grow and continue to seek challenge in our lives," said Cunningham.
"We were so elated to come to the great city of Chicago and share our idea with educators from across the nation. We love being able to make a difference and have the opportunity to have a small part in the progression of New Tech Schools everywhere," said Schwicht.
New Tech schools are grounded in three key design principles: teaching that engages (centered on project-based learning), a culture that empowers students and adults, and the pervasive use of technology to enable learning. Working with local school district principals and teachers, NTN provides the training, coaching and professional learning networks to implement the new school designs in elementary, middle and high schools..
New Tech Network, recently released its 2015 Data Report showing a higher than national average rate of high school graduation and college enrollment from NTN schools located in diverse communities across the country. New Tech Network's strong student performance continues from previous years' outcomes and is noteworthy as the number of schools has expanded to more than 175 public K-12 schools in 28 states and Australia and China.
The event brought educators together to share strategies, learn new techniques and deepen the understanding of how best to support students in New Tech schools. Also included was professional development to support principals, teachers and district leaders who are preparing students for life after high school.
The goal of NTAC is to "provide a venue where hundreds of educators spend a week seeing old friends, getting energized about making new ones, exchanging new ideas, challenging each other to reach new heights, sharing best practices, creating new 'agents' and shaping better 'agents' to be more effective in making an impact out in the field," said Dobyns.
First introduced in Napa, California, in 1996, the New Tech model has proven successful across diverse student populations in urban, rural, and suburban public high schools. New Tech is emerging as one of the fastest-growing approaches to transforming high school education in the U.S.
About New Tech Network
New Tech Network (NTN) works with public district and charter schools to ensure that all students have the skills, knowledge and attributes they need to thrive in college, career and civic life. We are an independent non-profit school development organization that partners with districts to create vibrant schools and engage a national network of educators in continuous improvement. We provide professional development, coaching, access to Echo, our learning management system, and ongoing participation in improvement initiatives so that all systems to support learning are focused on college and career readiness.
For a full list of New Tech schools, visit our website at:
http://www.newtechnetwork.org/newtech_schools