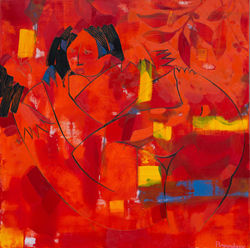 These artists amuse, provoke, surprise and challenge, exploring fresh meaning and expressing innovative perspectives
San Francisco, California (PRWEB) August 09, 2015
Hermitage Art Center presents a new art exhibition, "Suggestions of Life in the Dappled," a new exhibition of original artworks by Vadim Puyandaev, curated by Yuri Tsapayev.
Hermitage Art Center,
1419 Stockton St., San Francisco, CA
August 8th to August 30th, 2015
Artist statement:
"My work captures the ineffability of childhood, delight in the fantastic ordinary, awakening in the viewer flickers of recollection that float like dust on a shaft of light. I am perpetually fascinated by movement—the perambulatory, dancing body, birds on the verge of flight, the transfer of light as it traverses and reflects varying surfaces—and images evoking this movement repeatedly emerge in my work. Form materializes naturally and unprovoked, from a childlike disregard and a willingness to follow blindly the movement of my hand across the canvas. Fine lines—scratches layered over contrasting chunky brushstrokes, daubs of light—unearth figures, suggestions of life in the dappled world of the painting."
Vadim Puyandaev has worked as a painter, sculptor, and designer for over twenty years and has been participating in multi-media installation-performances since 1994. His fine art has been shown in solo and group exhibitions in Russia, Israel, Japan, Switzerland, France, Spain, Canada, and the US. Puyandaev had also produced numerous pieces of monumental art, including a commission to design a bridge over the Red Sea in Israel. With Tsimbrovsky, he is a founding member of the creative collectives EVM Laboratories (Israel) and Avy K Productions (US), dedicated to investigating what emerges in performance at the nexus of different genres. He has been awarded by SOMArts, Stanford Arts Initiative, Zellerbach Family Foundation, Ministry of Culture and Ministry of Tourism in Israel, Salon des Leopards (Saint-Tropez, France) and is the recipient of the Grande Medaille Republique Francaise at the Festival Palmares des Blues en Peitute, France.
At Hermitage Art Center we provide an inviting environment for experiencing contemporary and modern art. We present an eclectic program of exhibitions, augmented with rigorous publishing, insightful art world and community events, and a growing library and archive. Through this diverse array of activities, we attract a broad audience who often seek guidance in navigating the complex global art market.
Since 1997, we exhibited our paintings in New York at Javits Convention Center, San Francisco Exhibition Pavilion, Cabrillo Art Pavilion and Faulkner Gallery in Santa Barbara, First Unitarian Church in Rochester, NY, Fort Mason in San Francisco, at different private shows in California. We collaborate continuously with art curators by participating in traveling exhibitions and loaning works from the gallery's extensive collection.
Our contemporary gallery features art from Europe in a wide range of media. These artists amuse, provoke, surprise and challenge, exploring fresh meaning and expressing innovative perspectives. We operate a nimble program, attending to each artist's particular vision, whether he or she is widely celebrated or as yet relatively unknown.