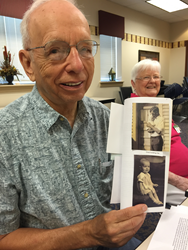 "We wanted to offer the family members of our residents an opportunity to record the story of their loved one's life," Nardulli said.
(PRWEB) August 10, 2015
Sharing the rich memories of a long life is a hallmark of aging. While taking a walk down memory lane can reveal joyous and bittersweet memories of a life well lived, those stories are even more poignant for individuals who require assisted memory support.
Capturing those memories before they fade away can bring a closeness to a family and reveal a wellspring of information, according to Maria Nardulli, life enrichment manager of The Springs of Monarch Landing in Naperville. "We wanted to offer the family members of our residents an opportunity to record the story of their loved one's life," Nardulli said.
To better serve the residents of The Springs, an assisted memory support, long-term skilled care and short-term rehab community, a new biography program called LifeBio was implemented that offers a variety of questionnaires including military service, first job, favorite teacher or hobbies, even historical moments that were witnessed.
Nardulli said that family members and staff work together to compile stories for a resident's personal book, and that some of the questions will trigger unexpected, yet welcome, slices of the past. "We found out that one of our residents used to participate in the roller derby," Nardulli said. "Another resident used to build cars as a hobby."
While the personal books are private and secure, family members share them with authorized caregivers at The Springs, who may use those life events to create deeper dialogue and engage with residents in truly personalized activities. Nardulli said that the resident who once built cars became active in a game that required eye-hand coordination to build small scale models, and the resident who enjoyed roller derby relished in retelling her derby days.
"I love the program," Nardulli said. "I think it's a great legacy for individuals to leave for their family and it helps the caregivers discover what the residents enjoy." This type of personalized engagement only enhances the residents' quality of life, Nardulli said. In fact, the LifeBio program has become such a success at The Springs that a nine-week course is now being offered to the independent residents at Monarch Landing, she added.
For LifeBio founder Beth Sanders, storytelling is all in a day's work. "It's a great way for people to know their family member and to find out more about them," Sanders said. "We've been helping people capture their life stories at The Springs for about a year." The story book profiles vary in length, but typically run 10-13 pages, she added.
There are no boundaries with the story books, so family members from coast to coast can contribute by uploading photos through the online process, Sanders said. The end result is a physical, leather-bound book that offers insight into a loved one's life. Visitors can sit with residents as they look through the story book together, selecting from a variety of topics to discuss.
LifeBio was born from Sanders' 1993 tape recorded interview with her grandmother that opened Sanders' eyes to her grandmother's life. "The storybooks are life affirming, reminding people how unique they are," Sanders said. "If you can engage someone with dementia you can drive a conversation. We need to give them a chance, and the story books offer that opportunity."
Monarch Landing is a continuing care retirement community located on a scenic campus in Naperville, Illinois-named "one of America's best places to live and retire" by Modern Maturity, and "the best city for early retirement" by Kiplinger. Monarch Landing offers independent living, promoting a vibrant life style for active seniors. The Springs at Monarch Landing offers assisted living memory support, rehabilitation and skilled nursing services, thus providing complete continuing care for seniors. Monarch Landing is owned by Senior Care Development and managed by Life Care Services. For additional information visit http://www.WelcomeToMonarchLanding.com or http://www.TheSpringsatMonarchLanding.com.