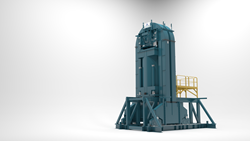 On installation, Alcoa Howmet's new Avure press will be the largest-diameter HIP operating at 2000 bar to be deployed in the U.S.
Västerås, Sweden (PRWEB) August 11, 2015
Avure Technologies, the premier manufacturer of ultra-high pressure systems, will supply a Quintus® Hot Isostatic Press (HIP) to Alcoa Howmet, the Cleveland, Ohio-headquartered fabricator of components for the jet aircraft, gas turbine, and other advanced-technology industries.
Avure HIP systems produce parts with excellent isotropic material properties, offering the highest possible density of all available compaction methods. Quintus technology combines the highest level of pressure vessel safety with unmatched productivity.
The model QIH286 HIP to be installed at Alcoa Howmet will be equipped with Avure's patented Uniform Rapid Cooling (URC) technology, enabling increased productivity with optimal temperature control. The press operates at a pressure of 2000 bar (29,000 psi) and a temperature of 1250°C (2282°F). Its work zone of 1.6 meters (5.25 feet) in diameter and 2.6 meters (8.5 feet) in height will expand the fabricator's in-house capabilities to treat larger parts for the world's top-selling jet engines.
"Alcoa Howmet is well known for meeting the exacting demands of the aerospace and industrial markets with precision investment castings of superalloy, titanium, and aluminum alloys," says Peter Henning, Business Unit Director of Advanced Material Densification at Avure Technologies. "When one of the most experienced and skillful HIP users in the world chooses our solution, it makes a strong quality statement for our Quintus technology."
In addition to its contribution to improved material performance and accelerated production, Alcoa Howmet's new press will hold the distinction of being the largest-diameter HIP operating at 2000 bar to be deployed in the United States.
See Avure at FABTECH 2015, Booth S4789
Chicago, IL USA November 9 – 12, 2015
ABOUT AVURE TECHNOLOGIES
An innovator with a strong record of accomplishment, Avure Technologies (formerly known as ASEA, ABB, and Flow) demonstrates its expertise in high pressure by occupying leadership positions in industrial and food applications. The company is the largest global provider of ultra-high pressure systems utilized to form sheet metal, to process advanced materials, and to pasteurize foods without heat or chemicals.
Avure has installed over 1,700 high-pressure systems worldwide, more than all other competitors combined. These systems are characterized by technically sound design, superior reliability, energy efficiency, low maintenance costs, and many years of experience. Many Avure presses have been in service for more than 40 years, and some have surpassed 1 million high-pressure processing cycles.
Avure Technologies AB headquarters in Västerås, Sweden, house equipment design, manufacturing, and support operations, along with a new Isostatic Pressing Application Center to further collaboration with component fabricators in areas such as additive manufacturing (3D-printing), metal injection molding (MIM), and investment casting. Additional facilities are located in Columbus, Ohio, USA, with regional sales and support offices around the globe. Read more about Avure Technologies at: http://industry.avure.com.
ABOUT ALCOA HOWMET
Headquartered in Cleveland, Ohio, Alcoa Howmet is a global leader in airfoil and structural investment castings. Serving the aerospace, defense, energy and industrial markets, its products are primarily used in aircraft engines, aircraft frames, industrial gas turbines, armament, and other industrial applications.
The investment cast products produced by Alcoa Howmet improve performance and efficiency for the world's leading manufacturers of aerospace propulsion and industrial power systems. The company and its affiliates operate 27 manufacturing facilities in the United States, Canada, France, the United Kingdom, and Japan. Read more about Alcoa Howmet at: http://www.alcoa.com/howmet