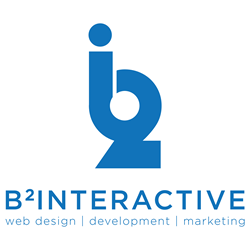 More businesses are realizing the high value of a good digital marketing strategy.
Omaha, NE (PRWEB) August 11, 2015
B² Interactive, an Omaha-based digital marketing agency, added six full-time employees to its staff over the last three months. The new hires will join teams focused on content marketing, web design, email marketing, public relations, digital marketing, project management, and product development.
"We are fortunate to continue attracting amazing talent to foster our growth," said Bill Hipsher, who co-founded B² Interactive with partner Brandon Taylor in 2012. "More businesses are realizing the high value of a good digital marketing strategy. Since the industry is so new, relative to traditional marketing, the pool of experienced talent that can show positive returns is quite small. Saying we are fortunate to have the teams we have built is really an understatement."
Among the newcomers to B² Interactive are Ashley Ryan, Dale Mayo, Jaclyn Pitt, Jennifer Windrum, Meghan Trapp, and Trisha Gawley.
Ashley Ryan previously worked for a marketing company in Omaha, specializing in email marketing. She joins B² Interactive as Email Marketing Strategist. Ryan will primarily work on email campaigns for B² Interactive's owned brands, including Storage.com, which the company acquired in April 2015. With Storage.com, Ryan will ensure all self storage renters and operators receive pertinent information regarding storage unit rentals, self storage partnerships, and digital marketing product offerings.
Dale Mayo worked for a technology company in Omaha as Project Manager before joining B² Interactive as Project Manager. Mayo will focus on continually improving B² Interactive's project expectations, goals, and necessary resources to support the client services staff, as well as business and client objectives.
Jaclyn Pitt previously worked at the Omaha World-Herald alongside the editor of Momaha, an online parenting blog, before joining B² Interactive as Copy Editor. In her new role, Pitt will copy edit and proofread content for the client services staff. She will also publish content produced by the content marketing team for local clients, as well as for Storage.com and other storage sites in Storage.com's network, including USstoragesearch.com and StorageUnit.com.
Jennifer Windrum brings her public relations and social media expertise to B² Interactive after working for several years on her self-started cancer advocacy social media campaign and as a former PR Manager at Omaha ad agency Swanson Russell. As PR & Social Media Marketing Strategist, Windrum will develop brand identity and identify public relations opportunities for B² Interactive and its owned brands, including Storage.com and Lincoln-based digital marketing agency, Hurrdat, which B² Interactive acquired in August 2014.
Meghan Trapp comes to B² Interactive from Columbus, Ohio, where she was Director of Strategic Partnerships at digital marketing agency RevLocal. As Product Development Manager, Trapp will be tasked with further development of B² Interactive's local search solutions.
Trisha Gawley spent the last five years at engineering firm HDR on its in-house graphics team, supporting all web-based projects. As Front-End Developer, she brings strong in-house design and branding experience along with web design skills to assist in the design of websites and marketing materials for B² Interactive and its owned brands.
"It's been exciting to see our company grow over the last three years," said Taylor. "With just over 80 employees and the new additions to our staff, we realized we needed a much larger space. Having outgrown our original space, we acquired another 5,000 square feet next door to accommodate some of our teams and give us room for future growth."
B² Interactive's newest location, just next door to its main office at 4223 S. 143rd Cir. in Omaha, brings the company's office location total to three, including Hurrdat's space in Lincoln. The new office houses the company's content marketing, SEO, and video production teams, as well as operations and financial staff.
About B² Interactive & Hurrdat Social Media
B² Interactive was founded in 2012, acquired Hurrdat Social Media in 2014, and purchased Storage.com in its entirety in 2015. B² Interactive provides local, regional, and national clients with Digital Marketing, SEO, and Website Development services. The companies together employ more than 80 people in Nebraska and have won multiple awards for their business efforts, company culture, and clients' campaigns.