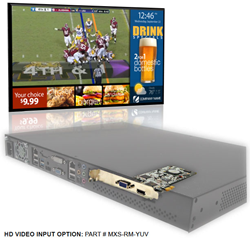 Adding live media to a digital signage zone is one of the best ways to keep content fresh and interesting for viewers.
Lenexa, Kansas (PRWEB) August 12, 2015
MediaZone Pro®, Keywest Technology's PC-based digital signage system, gets a high-definition input option that captures live video content from multiple sources. The input option processes both digital and analog video formats, enabling users to capture and insert live video feeds into a digital signage playlist from HDMI, DVI, VGA and YUV sources.
Keywest Tech engineered the integration of the AVerMedia® full HD 1080P capture card into the MediaZone Pro platform for seamless use and no-hassle operation. According to the company, the option gives MediaZone Pro users the ability to stream live video directly into the digital signage playlist with absolutely stunning quality. The video input option also supports live stream switching between analog and digital inputs.
Koytt Nichols, Director of R&D for Keywest Technology, commented that this option gives digital signage viewers what they want. He said, "Adding live media to a digital signage zone is one of the best ways to keep content fresh and interesting for viewers. This tactic [a.k.a. sticky content] gives viewers a reason to come back for more."
"The card can capture the video easily and requires minimal configuration. We are satisfied with the hardware combination and look forward to years of use," said Lance Ha, Shell IT A/V Coordinator. Mr. Ha's department manages a multi-channel IPTV distribution system that is used to provide staff local and world news channels combined with other pertinent employee information. "We use the input cards to capture cable television channels from our satellite tuners via the component to serial adapters, and we wrap the channels with zones of relevant information," Ha added.
The MediaZone Pro video input option was released in the 3rd quarter of 2015, and it's available from authorized AV system and architectural integrators throughout North America. Interested parties and resellers are encouraged to visit the MediaZone Pro website for more information: http://www.mediazonepro.com/
About Keywest Technology
Keywest Technology is an authentic developer of digital signage technology and a full-service provider offering solutions from simple playback to large multi-sign and interactive networks. Keywest builds systems with a holistic approach that includes key software technologies, creative design, system design, and comprehensive network-managed services. Based in Lenexa, Kansas, the company is dedicated to making business communication as enjoyable as a day at the beach. For more information, visit http://www.KeywestTechnology.com.
MediaZone Pro is a registered trademark of Keywest Technology, Inc.
AVerMedia is a registered trademark of AVerMedia Technologies, Inc.