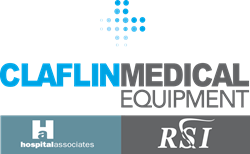 Claflin Medical Equipment named as one of Rhode Island's 21 Real Jobs Rhode Island grant recipients.
Warwick,RI (PRWEB) August 11, 2015
On Friday, July 31, Gov. Gina M. Raimondo named Claflin Medical Equipment as one of Rhode Island's 21 Real Jobs Rhode Island grant recipients. The announcement was made at the Claflin Medical Equipment warehouse in Rhode Island.
The Real Jobs program is designed to ensure employers are at the forefront of determining which training is the best investment by the state, and by companies. The grant requires that the teams of universities, companies, and industry associations work together, ensuring that industry training is standard across the board.
Claflin Medical Equipment and team—Claflin Companies, South County Hospitals, Year Up, and the Community College of Rhode Island—won a $25,000 grant, the governor's office said.
"The Real Jobs program has invited employers to band together within their sectors in order to inform us of their specific workforce needs and, in so doing, enable us to partner with them effectively… Now these awardees have the opportunity to produce plants that identify their real needs and that positions us to craft real solutions together," said Commerce Secretary Stefan Pryor.
The grant was made available through the state Department of Labor and Training in an effort to invest in job training and reduce the state's high unemployment rate.
The next round of grants is for employers seeking to implement training programs. Details are online at http://www.dlt.ri.gov/realjobs. Applications are due Oct. 23, with recipients announced Nov. 16.
To seek a training program, visit http://www.employri.org.
Claflin Medical Equipment is the leading medical equipment specialist company serving hospitals, clinics, surgical centers, and general practices in the country. Claflin Medical Equipment was founded in 1817 and is now the largest independent medical equipment distributor with 3 branches and 31 service centers across the country.