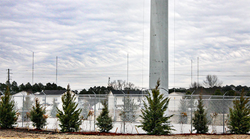 This reference material explains the critical regulatory, safety and liability issues associated with a detuned tower
Greenville, NC (PRWEB) August 11, 2015
Lawrence Behr Associates, Inc., a unit of LBA Group, Inc., announced the release of a white paper and video. This new resource is aimed at filling a knowledge gap about cell tower AM radio detuning that exists within the wireless and broadcast industries. Failure to appreciate AM detuning carries significant operational, regulatory and liability consequences.
The "Is This Cell Tower Detuned?" text and video resource is available on line at: https://www.lbagroup.com/blog/is-this-cell-tower-detuned/.
The material will help those involved with cell or communications tower planning, construction or maintenance to identify a tower with, or required to have, AM detuning hardware installed on it. In a simple and straightforward manner the white paper explains the unique characteristics of AM radio signals, the interaction that can occur between AM broadcast towers and nearby towers, and why a tower might require detuning for AM protection. This new resource also describes in detail the identification of most frequently encountered cell tower AM detuning hardware installation configurations.
"This reference material explains the critical regulatory, safety and liability issues associated with a detuned tower," LBA Site Services Director Mike Hayden said. "Most often, a detuned tower is not close enough to an AM tower for hazardous RF to exist, but just the presence of a detuning system on a tower is an indication that a "hot" AM tower is somewhere nearby and like a gun, you should consider it "loaded" until you verify otherwise," Hayden added.
Although detuning compliance is required by law, the Federal Communications Commission (FCC) does not maintain a database of detuned towers, and carriers often do not provide this information. Some of the tower owner/management companies do maintain a database of their detuned towers, but often times a visual inspection of the tower is the only option to make this determination.
The white paper also alerts to system maintenance indicators and malfunction abatement obligations. Since FCC regulations require that a detuning system be properly maintained, this is critical knowledge for those who work around cell sites to have.
"Is This Cell Tower Detuned?" pulls from LBA's expertise as the global leader in AM detuning, AM compliance, and AM colocation matters with over 50 years of experience in providing AM broadcast solutions and wireless services.
For more information on LBA products and services related to AM detuning, AM compliance, and AM colocation matters, visit https://www.lbagroup.com/services/lawrence-behr-associates-inc, or contact David Horn, at David.Horn(at)lbagroup.com, 252-757-0279.
Keep up with what's going on at LBA by following the company on Facebook at: https://www.facebook.com/LBAGroup.
About LBA Group Inc.
LBA Group, Inc. has 50 years of experience in providing electromagnetic protection for industrial and telecommunications infrastructure assets. It is comprised of LBA Technology, Inc., a leading manufacturer and integrator of radio frequency systems, lightning protection, and EMC equipment for broadcast, industrial, and government users worldwide; the professional technical consultancy Lawrence Behr Associates, Inc.; and LBA University, Inc. providing on-site and online professional training. The companies are based in Greenville, N.C., USA.