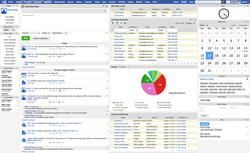 X2CRM 5.2 is a great CRM tool for building customer experiences across sales, marketing and service departments - John Roberts, Founder/CEO of X2CRM.
Santa Cruz, California (PRWEB) August 19, 2015
X2CRM, an open source CRM software and services company, has reached another major milestone in its history with the company's latest version 5.2 of its CRM software, which includes workflow automation macros, a new topics knowledge base discussion board and improvements to the X2CRM core platform.
This release, like all X2CRM versions, is available as an open source CRM application as well as in two commercial versions available in both cloud and download editions.
Release Highlights:
– X2Workflow Macros Buttons on Individual Records
– Topics Discussion Board and Knowledge Base
– New Themes & Color Coded Modules
– Major Module Detail View UI Update
– Calendar Enhancements
– Campaigns/Marketing Ease of Use Enhancements
– Import/Export Worksheets for mass record updates
– Mass Action updates for Tags, Actions, Comments
– Deduplication Improvements
– X2Workflow Robustness Enhancements
– User Permissions Roles update performance improvements
– New Documentation and Training Videos
– Weblead widget for Activity Feed Dashboard
– Email Widget for Activity Feed Dashboard
– Updated, improved Administration Panel
Feature Highlights:
X2Workflow Record Macros - Users can now create record specific workflow Macros to perform actions on individual records. For example, a sales rep can activate a Macro on a contact record to automatically create a call back in two weeks, and to send a reminder. By combining the power of X2Workflow marketing automation with Sales and Service interactions users have the ability to trigger any workflow process with one click.
Topics/Knowledge Base Module - New in X2CRM 5.2 is a Topics knowledge management, discussion module. Topics combines unstructured content such as product information, or competitive product discussions among users and relates them to individual customer contact records. Users can create new discussion topics, add content, attach files and even relate topics to individual customer records. This is an invaluable feature for knowledge based service organizations.
About X2CRM
X2CRM | X2Engine, Inc. of Santa Cruz, California, is a leading provider of commercial and open source Customer Relationship Management (CRM) software and cloud services. X2CRM was founded in 2011 by John Roberts, a SugarCRM co-founder and CRM entrepreneur. X2CRM is fully internationalized and has been installed on over 22,000 public and private cloud servers across 160+ countries.
Additional Resources:
Website: http://www.x2crm.com/
Follow @X2CRM on Twitter
Test drive a free trial: http://demo.x2crm.com