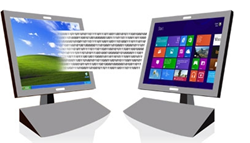 Laplink's estimate is that there are more than 30 million XP computers still in use in the United States alone. That's a lot of people needing a migration solution compatible with XP.
Seattle, Washington (PRWEB) August 17, 2015
Laplink Software, Inc. announced today that PCmover Express for Windows XP, updated to now support migrations to Windows 10, is available for no cost here.
PCmover Express for Windows XP transfers all data and settings from a Windows XP computer to a new PC. In 2014, Microsoft licensed this software from Laplink as explained in this blog post. That offer ended August 1, leaving XP users without a migration tool.
In June 2015, Spiceworks released a report stating 44% of their respondent organizations indicated a continued reliance on Windows XP. This response, which surprised many industry observers, is consistent with Laplink's survey results. While many Windows XP computers have been isolated from accessing the Internet due to security concerns, they continue to be relied upon at organizations of all sizes.
"XP is in decline, but it is not dead yet," declared Thomas Koll, Laplink's CEO. "Every week I hear from a business that still has pockets of XP machines and are looking for a migration solution. I know many consumers have been waiting for Windows 10 before they replace their old XP computer with a new PC. In fact, Laplink's estimate is that there are more than 30 million XP computers still in use in the United States alone. That's a lot of people needing a migration solution compatible with XP."
In October 2013, the Windows Easy Transfer tool from Microsoft stopped supporting migrations from Windows XP.
"In the past, after eliminating support for XP in Windows Easy Transfer, Microsoft licensed Laplink software to provide XP users with a quality migration solution," explained Koll. "With Microsoft no longer distributing this tool, and because of the number of users still needing to migrate from XP, Laplink will continue to provide our migration tool free of charge."
PCmover Express for Windows XP, available to download here, and requires the old PC to be running Windows XP. Laplink is offering a free version of PCmover Express for personal noncommercial use that supports migrations from all versions of Windows here.
PCmover is the only migration tool recommended by Microsoft. And although PCmover Express does not transfer applications, Laplink's PCmover Professional does.
"PCmover Professional continues to be the market leader with unmatched capabilities," added Koll. "It remains the easiest way to set up a new PC, with no need to find old serial numbers, CDs or downloads of programs because everything is transferred to the new PC ready-to-use. We believe the time and hassle that PCmover saves users is worth it, and it's why it is the market leader."
All versions of PCmover include Laplink's unique 24/7 free transfer assistance, a service that provides access to a professional technician who will remotely guide the new PC setup process.
Laplink also offers an enterprise version of PCmover, allowing IT professionals to manage migrations for unmanaged PCs. Already in use by thousands of major companies and organizations, it continues to be the fastest growing enterprise migration solution on the market. Complimentary evaluations of PCmover Enterprise are available from Laplink's website.
For over 30 years, Laplink has been the leader in consumer and enterprise software for Windows migration and refresh projects, disk imaging, file synchronization and more. The privately-held company was founded in 1983 and is headquartered in Bellevue, Washington.
For more information, please contact:
Laplink Software Public Relations
Shireen McCleary
press(at)laplink(dot)com
+1-425-952-6027