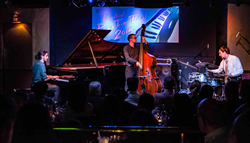 His work is clearly rooted in the mugham harmonies and other folk music of his homeland, combined with approaches from the post-bop school and jazz-funk.
London, UK (PRWEB UK) 11 August 2015
Ronnie Scott's jazz club ranks amongst the most pre-eminent in Europe. Founded by the eponymous late British bebop saxophonist in 1959, it has played host to some of the world's leading jazz musicians and singers over nearly six decades. On 10 August, a capacity audience of London's jazz cognoscenti had chance to experience the music of a great Azerbaijani pianist born exactly 30 years after the club was founded – Isfar Sarabski, in a concert sponsored by The European Azerbaijan Society (TEAS).
Following his acclaimed concert at the club in February, Isfar was invited for a swift return visit as part of the second Ronnie Scott's Piano Trio Festival, filling the headline slot between trios led by the Los Angeles-based Gerald Clayton and the UK's own Ashley Henry. Isfar – who is still unrecorded – has been making waves since winning the Montreux Jazz Festival Solo Prize at the tender age of 19.
Playing with his longstanding bassist – Makar Novikov – alongside guest British drummer Corrie Dick, his work is clearly rooted in the mugham harmonies and other folk music of his homeland, combined with approaches from the post-bop school and jazz-funk.
Almost entirely comprising his own compositions, the set began with the delicate, rhapsodic introduction to 'Déjà vu', before settling into a rhythmic groove that provided opportunity for him to show off his formidable command of the keyboard, effortlessly jumping octaves to reach new heights of improvisation.
This was followed by a pensive and mystical introduction by Isfar to his variations on themes from Tchaikovsky's 'Swan Lake Ballet', which swiftly transformed into a compulsive, funky groove, Isfar's nimble fingers evoking thoughts of cygnets dancing at impossible speed.
The introspective 'Prélude' belied Isfar's classical training, giving opportunity for bassist Makar Novikov to show his abilities, bringing the excited audience to rapt silence. The mood continued for the introduction to 'Transit to New York', which began with a bass introduction. Isfar then developed the theme at an exhilarating pace before handing over to guest drummer Corrie Dick, who gave an innovative and compelling solo.
'Edge' began with Isfar reaching into his Steinway to thoughtfully pluck the strings, before exploring the mugham-influenced harmonies of his Eastern homeland, adopting a hypnotic rhythm and perfectly demonstrating his unique distillation of jazz, classical and Azerbaijani national influences. After a delicate segue, the tempo increased, and the excitement reached a new level.
'Generation' was in a dramatic minor key and featured an interesting call-and-response passage with Makar Novikov. Isfar returned to the rhythms and harmonies of Azerbaijan with 'Novruz', his dexterity evoking a 6/8 national dance rhythm, which then developed into an impressionistic passage before returning to the main theme at a remarkable tempo. Propelled by Corrie Dick's drumming, Isfar's improvisations became increasingly daring and impressive.
The set concluded with one of Isfar's most popular compositions – 'G Man' – which began with a Bachian introduction, before developing a funky bassline that gave rise to Isfar's evermore inventive and octave-jumping improvisations.
Despite screaming and whistling for more, the transfixed Ronnie Scott's audience was disappointed, as the scheduling of the evening gave no opportunity for encores. However, their rapturous response left no doubt that he will soon return to the club.