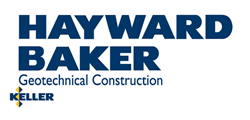 Moving our Tampa team to a larger facility nearby gives us the space needed to better serve our clients.
Hanover, Maryland (PRWEB) August 11, 2015
Hayward Baker Inc. (HBI), North America's leader in geotechnical construction, announces expanded operations in the state of Florida. The Florida expansion includes relocation of HBI's Tampa office to a larger facility nearby, plus the opening of a new South Florida office in the city of Hollywood.
The Tampa and Hollywood offices of HBI support customers and projects in the state of Florida, coastal regions of other Southern States, as well as the countries of the Caribbean Basin and Central America.
HBI's Tampa-based vice president, Curtis Cook, oversees operations for both offices.
Tampa Office
HBI's new Tampa office is the design center for Florida, Caribbean and Central America work. Design engineers Dustin Walkenhorst and Dr. Ghassan Akrouch, with oversight from Bob Scott, HBI's Southern Region Chief Engineer, staff the office. Division managers Mike Smith and Vince Hull handle inquiries for projects pertaining to ground improvement (vibro systems and compaction grout) and structures (micropiles/anchors, soil mixing, jet grouting, rigid inclusions and excavation support), respectively. Clients seeking the best solutions to geotechnical challenges benefit from Smith and Hull's extensive geotechnical construction backgrounds.
According to Curtis Cook, the relocation of the Tampa office represents a significant step forward in HBI's commitment to the region. "The construction market is very active today and this is an exciting time for our company. We fiercely compete in the Florida market. After 30 years and multiple remodels at our Benjamin Road location, we simply outgrew it. Moving our Tampa team to a larger facility nearby gives us the space needed to better serve our clients. The new 17,000 sq. ft. office is double the size, giving us room as we continue to grow," Cook reported.
"Our Tampa heavy equipment shop and equipment yard remain at the original location," Cook added.
Recent geotechnical construction projects illustrate the important work HBI's Tampa office is undertaking in the region. These include mass soil mixing on the Hidden Harbor residential subdivision project for Stock Development in Fort Myers, foundation support for a new FPL Flex Storage Facility in St. Lucie, and excavation support using sheet piles, twin axis soil mixing and mass soil mixing at Paradise Plaza in Miami.
In addition to other ongoing work across the state, HBI will soon perform mass soil mixing and rigid inclusions at the FPL Combustion Turbine project in Broward County, plus micropiles and vibro-replacement stone columns at the College Town mixed-use facility in Tallahassee. HBI will also be performing vibro-replacement stone columns at Tampa International Airport.
South Florida Office
HBI's experienced staff at the new South Florida office includes Nick Syriopoulos, Business Development Manager; Carlos Rosand, Project Manager; Colin Cilladi, Project Engineer and Dan Bole; a Project Manager who recently transferred from HBI's Denver office.
Commenting on the team assigned to the new South Florida, Cook stated, "The strength of our staff sets us up for continued growth and the ability to effectively serve our clients in this area. The addition of Dan Bole allows us to continue to respond to strong customer demand with quality, customer-focused service."
Among HBI's high-profile projects in South Florida are vibro replacement stone columns and soil mixing to support a runway expansion at Ft. Lauderdale airport. In a joint venture with sister Keller company HJ Foundation, HBI has also performed soil mixing to create a bottom seal and excavation support for construction of a new 28-story luxury oceanfront condominium in Bal Harbour.
In addition, HBI recently completed jet grouting and permeation grouting work at Sun Life Stadium. Vibro replacement is underway in Trinidad for an infrastructure project. Recently awarded projects include the Biosolids Improvement Project in West Palm Beach involving vibro replacement, plus the Riva project in Fort Lauderdale that involves sheet piling and twin axis soil mixing.
The new Tampa office of HBI is located at 5461 West Waters Avenue, Suite 900, Tampa, FL 33634. For more information on the services offered by this office, contact Curtis Cook at 813-884-3441.
The new South Florida office is conveniently located in the Miami/Ft. Lauderdale/Palm Beach metroplex at 1909 Tyler Street, Suite 305, Hollywood, FL 33020. For more information on the services offered by this office, contact Nick Syriopoulos at 954-977-8117.
For a complete listing of Hayward Baker regional offices, visit http://www.haywardbaker.com/locations.
About Hayward Baker Inc.
Hayward Baker (http://www.haywardbaker.com) is North America's leader in geotechnical construction, annually ranked by Engineering News-Record (ENR) magazine #1 in the profession. With a 60-year record of experience, Hayward Baker offers geotechnical construction technologies through a network of more than 20 company-owned offices and equipment yards across the continent. Project applications include foundation support, settlement control, site improvement, slope stabilization, underpinning, excavation shoring, earth retention, seismic/liquefaction mitigation, ground water control, and environmental remediation.
Hayward Baker Inc. is part of the Keller Group of companies, a multinational organization providing geotechnical construction services throughout the world. Web site address: http://www.keller.co.uk.