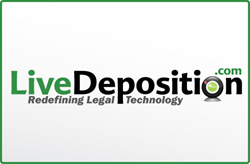 LiveDeposition provides exactly that for both the legal and reporting professional, combining all the best aspects of live-streaming real-time transcripts, HD video, and private collaboration among litigation teams into one excellent web-based platform
Los Angeles, CA (PRWEB) August 25, 2015
Recently, AZ Litigation Support, LLC began looking for a cloud-based realtime streaming and video conferencing solution that would provide their clients in the legal industry an alternative way to attend depositions. LiveDeposition's RemoteRealtime™ product was the solution they were looking for.
Choosing LiveDeposition because it is easy to use and is extremely user-friendly, AZ Litigation Support, LLC looks to increase its presence in multiple cities throughout Arizona, as well as expand their service offerings. Before signing up with LiveDeposition's web-based product, AZ Litigation Support, LLC used traditional video conferencing services to handle remote deposition requests.
As a full-service professional court reporting agency, AZ Litigation Support, LLC works with litigation professionals across the nation by offering cutting-edge realtime reporting, conference rooms and videography services, for large, complex technical proceedings. "Our dynamic client base demands concise, user-friendly solutions NOW, without a drawn-out learning curve and/or multiple downloads and connection settings," stated Marty Herder, President of AZ Litigation Support, LLC, when speaking about the LiveDeposition technology.
Herder went on to say, "LiveDeposition provides exactly what we are looking for. A web-based service for both legal and reporting professionals, which combines all the best aspects of live-streaming real-time transcripts, HD video, and private collaboration among litigation teams into one excellent platform."
For more information on AZ Litigation Support, LLC, you can visit their website at http://www.courtreportersaz.com or call them at 480.481.0649.
For more information on LiveDeposition.com, please visit http://www.livedeposition.com or call 888.337.6411.
About LiveDeposition.com
Headquartered in Sherman Oaks, CA, LiveDeposition.com is powered by MegaMeeting.com, a long-time resident of the video and web conferencing industry. As the only all-in-one universal streaming solution on the market, LiveDeposition.com provides the Legal Industry with local and cloud-based remote deposition solutions, as well as electronic exhibits, web-based video conferencing and toll-free conferencing services. Being exempt from typical download and installation requirements, LiveDeposition.com works on all internet browsers, connects to all CAT software and litigation realtime viewers as well as offers mobile apps for iOS, Android and Kindle Fire users, making its state-of-the-art solutions easily accessible via PCs, Macs, iPhones, iPads, as well as all Android enabled tablets and smartphones.