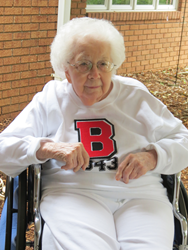 Words can't accurately describe how happy this made Pauline.
Newton, North Carolina (PRWEB) August 15, 2015
An 89-year-old had her dreams of cheering again come true this week. A resident at Abernethy Laurels retirement community, former cheerleader Pauline Heafner often told staff she wanted to cheer again. The team at Abernethy Laurels put a plan in place to make her dream a reality.
Pauline Heafner, a former cheerleader at Belmont High School, graduated in 1943. Now 72 years later, the high-spirited senior citizen can easily recall her days as a cheerleader. "My cheerleading uniform had a big, red 'B' on the front, and the skirt was about knee length," stated Heafner. Staff at Abernethy Laurels often report that Heafner will share a cheer with them. When Heafner was asked if she knew any cheers, she excitedly belted out, "Two, Four, Six, Eight; who do we appreciate? Belmont! Belmont! Belmont!"
Employees at the retirement community knew Belmont, North Carolina was a special place to Heafner and reached out to her former high school, now named South Point High School, to ask the current cheerleaders to come meet and cheer with Heafner. "I could have asked a local high school to come cheer with her, but the fact that she can remember her days at Belmont and her big, red "B" led me to believe that an alternative high school just wouldn't be the same for Pauline," stated Shaylyn Ladd, Abernethy Laurels Public Relations Director. When asked to come to Abernethy Laurels, South Point High School Varsity Cheer Coach Kelly Brown quickly responded that the cheerleaders were interested in meeting Heafner.
For the next couple of weeks, staff worked to put a uniform together for Heafner- complete with a big, red "B" and "1943". The morning that the cheerleaders from Belmont arrived at Abernethy Laurels, staff had Heafner dressed in her newly-made cheerleading uniform ready to shake her pom-poms. The cheerleaders immediately took formation and cheered for Heafner. After a few cheers, the South Point cheerleaders presented Heafner with an official set of pom-poms and a school shirt. "Words can't accurately describe how happy this made Pauline," shared Tina Talbert, Activity Assistant at Abernethy Laurels. For the next half hour, the cheerleaders cheered, laughed and shared stories with Heafner. The former cheerleader had a ton of advice to offer the current cheerleaders. "You have to be enthusiastic because the teams work so hard practicing and doing their best. It's our job to give them the motivation they need to win, win, win!" shared Heafner.
Pauline Heafner's dream to cheer again was made possible by Grant-a-Dream, a program through United Church Homes and Services that renews and celebrates the passion while creating joy within the hearts of seniors within their communities.
Abernethy Laurels, a not-for-profit retirement community in Newton, NC takes pride in its history and tradition of excellence. The community is a program of United Church Homes and Services. While the community offers a wide range of first-rate amenities, it is surprisingly affordable. For more information, visit http://www.abernethylaurels.org or call toll free 877-637-7941 or 828-465-8519.