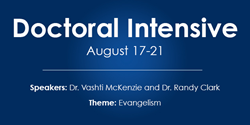 Dayton, Ohio (PRWEB) August 12, 2015
Dr. Randy Clark, president and founder of Global Awakening, and Bishop Vashti McKenzie, presiding prelate of the 10th Episcopal District (Texas) of the African Methodist Episcopal (AME) Church, are featured speakers at United Theological Seminary's Doctor of Ministry Intensive, taking place Aug. 17–21 in Dayton, Ohio. Worship and plenary sessions, which focus on the theme "Evangelism," are open to the public.
Intensive Week activities will begin with Bishop McKenzie preaching at an opening worship service at 7 p.m. on Aug. 17 at Precious Blood Catholic Church, 4961 Salem Ave. Bishop McKenzie was the first woman elected bishop in the AME denomination, and has served in numerous leadership roles in and outside of the denomination. In 2009 she was appointed by President Barack Obama to serve on the inaugural President's Advisory Council on Faith-Based and Neighborhood Partnerships.
On Wednesday, Aug. 19, Dr. Clark will lead a plenary session at 8:45 a.m. at the Dayton Marriott Hotel, 1414 S. Patterson Blvd. He will also be the featured preacher for Wednesday's chapel and evening worship services, at 8 a.m. and 6:45 p.m. respectively. Dr. Clark founded Global Awakening in 1994, a ministry devoted to biblical teaching and healing throughout the world. Dr. Clark is a 2013 graduate of United Theological Seminary.
Other speakers for the week include

Dr. Lucius Dalton, Senior Pastor of Mount Moriah Baptist Church in Washington, D.C.
Dr. Keith Lawrence, Founder and Senior Pastor of Global Empowerment Ministries
Dr. Sir Walter Mack, Pastor at Union Baptist Church in Salem-Winston, North Carolina
Guillermo Leon Mighty, District Superintendent of the Havana area of The United Methodist Church
Dr. Kimberly Reisman, Executive Director of World Methodist Evangelism
For more information, including a schedule of public events, click here.
United Theological Seminary is a graduate professional school of The United Methodist Church offering masters and doctoral theological degrees and continuing education with programs offered on campus and online. United's goal is to educate dynamic, Spirit-led leaders who will renew the church for the mission of Jesus Christ in the world.