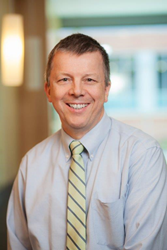 After joining the organization last year, this is a natural next step based on Bruce's twenty years of experience as a practicing board-certified palliative care physician.
Portland, Ore. (PRWEB) August 11, 2015
Cambia Health Solutions announced Dr. Bruce Smith will expand his current leadership responsibilities to include oversight of the organization's Personalized Care Support program. In this role, Smith will manage Cambia's efforts to provide additional support for people managing or caring for someone with a serious illness.
Cambia's holistic approach to palliative care supports a more personalized health care experience through contributions and programs led by the Cambia Health Foundation to the creation of integrated health plan programs working to transform the health care system for consumers.
"After joining the organization last year, this is a natural next step based on Bruce's twenty years of experience as a practicing board-certified palliative care physician," said Dr. Richard Popiel, Executive Vice President and Chief Medical Officer. "As Cambia's health plan programs continue to evolve and expand, his clinical expertise and passion for patient care will only help to accelerate our momentum in this important area. We're thrilled to have a physician of his caliber leading the charge."
In 2014, the health plans within the Cambia family of companies in Oregon, Washington, Idaho and Utah launched one of the industry's most comprehensive palliative care benefits programs, offered to more than 2.2 million members. The program's creation was a natural progression for Cambia, as the company has invested more than $25 million in advance palliative care training, access, awareness and quality nationwide since 2009 through the Cambia Health Foundation.
Since its launch, the Personalized Care Support program has successfully facilitated the health care needs of the company's health plan customers. From wellness through completion of life, the program emphasizes discussion and planning for serious illness when a patient is healthy. This ensures their needs are honored at every step while they make long-term health care plans and decisions.
"When I learned about Cambia's unique approach to palliative care, I knew it would be a tremendous opportunity to join the organization to make a real difference – to make health care better for millions of Americans," Smith said.
Smith will continue his current duties providing medical leadership and government programs oversight as Executive Medical Director of Cambia's health plan in Washington state.
Smith completed his M.D. at University of Washington School of Medicine and his residency in internal medicine at Virginia Mason Medical Center in Seattle. He practiced office-based primary care internal medicine for 20 years, focusing on geriatrics and palliative care and working closely with nursing homes and hospice programs. Dr. Smith also served as Medical Director for Government Programs and Network Services for Group Health Cooperative until 2014.
To learn more about Cambia's Personalized Care Support program, please visit cambiahealth.com.
About Cambia Health Solutions
Cambia Health Solutions, headquartered in Portland, Oregon, is a health solutions company dedicated to transforming health care by creating a person-focused and economically sustainable system. Cambia's growing family of companies range from software and mobile applications, health care marketplaces, non-traditional health care delivery models, health insurance, life insurance, pharmacy benefit management, wellness and overall consumer engagement. Through bold thinking and innovative technology, we are delivering solutions that make quality health care more available, affordable and personally relevant for everyone. To learn more, visit cambiahealth.com or twitter.com/cambia.