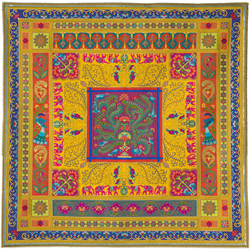 Grand Rapids, MI (PRWEB) August 12, 2015
American Quilter's Society, the largest quilting membership organization in the world, is pleased to announce the winners of the AQS Quilt Contest. Over $50,000 in prizes will be awarded to the winners at AQS QuiltWeek - Grand Rapids, MI, taking place from August 12 to August 15 at the DeVos Place Convention Center, 303 Monroe Ave NW, Grand Rapids, MI 49503.
As part of the American Quilter's Society's celebration of quilting excellence, the contest recognizes the skill and creativity of today's quiltmakers, as artists compete in the AQS Quilt Contest for more than $50,000 in cash awards. Entries come from around the world to compete in 14 different categories. This year's winners come from twenty different states and five different countries, with several prizewinners from the host state of Michigan, including the Best of Show.
These winning quilts will astound the 15,000 quilters expected to visit AQS QuiltWeek in Grand Rapids, this week:
Best of Show Award
#105 SAFFRON SPLENDOR, Pat Holly, Ann Arbor, Michigan
Best Wall Quilt Award
#518 OCTOBER SKY, Bethanne Nemesh, Allentown, Pennsylvania
Best Use of Color Award
#428 SAM IN SUNLIGHT, Deborah S. Hyde, West Bloomfield, Michigan
Best Original Design Award
#223 FERN RISING, Claudia Pfeil, Krefeld, Germany
Best Hand Quilted Award
#303 TULIP SERENADE, Barbara Clem, Rockford, Illinois
Best Home Machine Quilted Award
#407 DAZZLING DAHLIA, Andrea M. Brokenshire, Round Rock, Texas
Best Longarm Machine Quilted Award
#508 FROM THE BRIDE'S TROUSSEAU, Margaret Solomon Gunn, Gorham, Maine
Large Quilts – Home Machine Quilted
First #108 STARGAZE, Susan Liimatta, Stoughton, Wisconsin
Second #116 A TO Z FOR EWE AND ME, Janet Stone, Overland Park, Kansas
Third #101 OBSESSION, Mary Bauer, Crestwood, Kentucky
Hon. Mention #102 WEATHER THE STORM, Elizabeth Bauman, Lakewood, Ohio
Large Quilts – Longarm Machine Quilted
First #229 STARS ON MARS, Gail Stepanek and Jan Hutchison, New Lenox, Illinois
Second #226 ON THIS WINTER DAY, Nancy Prince and Linda French, Orlando, Florida
Third #203 BODACIOUS, Marilyn Badger and Claudia Clark Myers, St. George, Utah
Hon. Mention #220 BYRNE'S SPIRAL, Beth Nufer and Clem Buzick, Brookings, Oregon
Hand Quilted Quilts
First #308 LADIES OF THE SEA, Peggy Green, Sparta, Tennessee
Second #310 INVERARAY, A TRUE SCOTTISH TREASURE, Antonia Hering, Hoorn, Noord-Holland, Netherlands
Third #315 IRISH CROCHET LACE, Chieko Shiraishi, Saitama-shi, Saitama, Japan
Hon. Mention #306 PERSIAN PANOPLY, Jan Frazer, Elwood, Victoria, Australia
Wall Quilts – Home Machine Quilted
First #423 SILENCES, Olga Gonzalez-Angulo, Sant Feliu de Guíxols, Spain
Second #441 CRIME SCENE INVESTIGATION, Pauline Salzman, Treasure Island, Florida
Third #451 MR. BARTENBACH'S BUILDING, Linda Syverson Guild, Bethesda, Maryland
Hon. Mention #440 A LONG WAY FROM HOME, Amy Pabst, LeRoy, West Virginia
Wall Quilts – Longarm Machine Quilted
First #519 SEWING SEEDS OF HOPE, Bonnie Rhoby, Middleville, Michigan
Second #504 COSMOS, Sandy Clark, Fresno, California
Third #509 PASSIONATE RHAPSODY, Cyndi Johnson, Trenton, Missouri
Hon. Mention #512 SUNSET, Ann Loveless, Frankfort, Michigan
Wall Quilts – Modern
First #620 READ BETWEEN THE LINES, Stephanie Zacharer Ruyle, Denver, Colorado
Second #602 COMMUNITY, Thelma Bearden, Tullahoma, Tennessee
Third #624 RED RIBBONS, Judy Mercer Tescher, Pendleton, Indiana
Hon. Mention #621 THE DISINTEGRATION OF THE PERSISTENCE OF ARTICHOKES, Sylvia Schaefer, Athens, Georgia
Ultimate Guild Challenge
First #706 FAMOUS FEMALE FACES, Journeys Thru Art, Martin City, Florida
Second #716 NO MATTER WHERE YOU ROAM, YOUR HEART STILL HANGS AT HOME, West Michigan Quilters' Guild, Grand Rapids, Michigan
Third #704 A DAY AT WOODLEY ISLAND, Fiber Art Friends, Eureka, California
Hon. Mention #710 FLOWERS: ALWAYS AND ALL WAYS, Out of the Box Design Group, Jupiter, Florida
All of the winning quilts, as well as the semi-finalist works, will be on display at the DeVos Place Convention Center for the remainder of the week. In addition, AQS QuiltWeek will be hosting a number of other special exhibits, workshops with some of the top talent in the quilt industry, and an extensive merchant mall comprised of both local and national vendors.
Admission to AQS QuiltWeek is $14 per day and tickets can be purchased at the door. Multi-day tickets are available. Hours are Wednesday through Friday, from 9 a.m. to 6 p.m., and Saturday from 9 a.m. to 5 p.m. Ticket and additional information can be found at quiltweek.com or by calling 1-270-898-7903.
About the American Quilter's Society
The American Quilter's Society is the largest quilting membership organization in the world. For more than 30 years, AQS has been the leading voice in quilting inspiration and advice through a broad suite of products-magazines, books, live events, contests, workshops, online networks, patterns, fabric, and catalogs. At AQS, we believe that with inspiration and advice, the creatively-minded individual can take their quilting projects beyond what even they had imagined. The leading authors in quilting choose to publish with AQS; the best in quilt artistry select AQS events to display their work; the newest quilters learn from the knowledge and inspiration of AQS members. For more information on the American Quilter's Society, please visit http://www.americanquilter.com or call 1-270-898-7903.