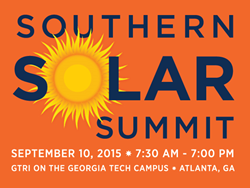 Atlanta, GA (PRWEB) August 13, 2015
U.S. Army Maj. Gen. Al T. Aycock, Director of Operations, Office of the Assistant Chief of Staff for Installation Management, will deliver the morning keynote address at the 7th Annual Southern Solar Summit on Sept. 10, 2015.
Maj. Gen. Aycock has overseen the Army's investment in solar energy, including Georgia's 3 X 30 program, which is building 30 MW of solar energy each at Georgia's Ft. Benning, Ft. Gordon and Ft. Stewart. He will discuss the Army's commitment to expanding its renewable energy holdings, the status of the program and contribution solar energy makes to the U.S. military mission.
An Army officer since graduating from the U.S. Military Academy in 1978, Maj. Gen. Aycock has received numerous recognitions for his distinguished service during his 37-year Army career. He holds a master's degree in education from Fayetteville State University as well as a master's degree in strategic studies from the U.S. Army War College and a certificate in nonprofit management from Duke University.
In addition to Maj. Gen. Aycock's keynote address, the Summit will offer a day packed with the latest in information and insight on the dynamic solar market in the Southeast and beyond. Panels and presentations will include expert discussions of project financing, the uses of Georgia's new distributed financing options, and much more. Watch for future announcements.
Registrations through the end of August are $235 for members and $335 for nonmembers. This includes breakfast, lunch, snacks and Happy Hour at the end of the day. Sponsorship opportunities starting as low as $250 are also available. Reserve your spot today. Visit http://www.gasolar.org to register or call Lauren Hart at 404-522-4775 for more details.