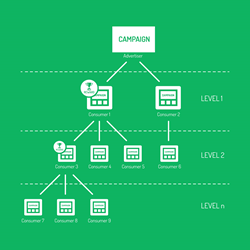 B2AND is result-oriented cloud-based online platform providing easy-to-use and scalable service utilising viral marketing within marketing campaigns in a new innovative (patent pending) and extremely effective way.
Tallinn, Estonia (PRWEB) August 19, 2015
B2AND offers advertisers a unique online service to approach their target groups by distributing their marketing campaigns by way of viral marketing. Marketing campaign offered through B2AND will grow like a tree by recommendations of friends to each other, after the first seed is planted by the campaign advertiser. Campaign participants will ideally initiate an exponential growth in number of recommendations sent during the marketing campaign in order to win anticipated rewards offered in the process.
"We're excited of the opportunity to launch our service and based on the feedback of our test users, expectations are high that advertisers are offered something unique to rapidly reach and engage with their target groups," said Jani Laakso, CEO and Founder of B2AND. "As known, friends recommendations is among the most powerful ways in getting people to engage with advertisers and with B2AND service we feel that we have succeeded in creating a win-win formula between advertisers and consumers whereas both parties are benefiting," continues Laakso.
To kick-start the B2AND service with style, B2AND is offering free credit worth 50 USD/advertiser, to advertisers who pre-registers to B2AND service by 15th of September 2015. This free credit is valid to be used within a period of 90 days starting from the date B2AND service is officially launching on October 2015.
For more information about B2AND, please visit http://www.b2and.com
For Media Contacts:
Jani Laakso, CEO and Founder, B2AND Ltd.
Email: jani(at)b2and.com
Tel: +372 5344 2696