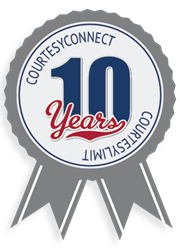 BSG Financial Group has always gone to great lengths to provide new and valuable solutions to our clients.
Louisville, KY (PRWEB) August 13, 2015
BSG Financial Group, a group of independently organized companies that provides revenue-enhancing programs and compliance solutions for financial institutions nationwide, announced today that August 2015 marks the 10th-year anniversary of the launch of its overdraft management software, CourtesyConnect®/CourtesyLimit™. The software—the industry's first web-based overdraft solution—is also the only of its kind built on a CRM platform, which helps financial institutions communicate more effectively and efficiently with customers regarding their overdrafts.
"Back in 2005, when other overdraft providers were hunkered down, believing the industry was very mature and showing little if any growth, we actually invested more in our technology," said Barrett Nichols, founder and CEO of BSG Financial Group. "Why did we do it? Because it was the right thing to do for our clients. BSG Financial Group has always gone to great lengths to provide new and valuable solutions to our clients."
Kristin M. Marcuccilli, Chief Operating Officer at STAR Bank in Fort Wayne, IN added, "BSG Financial Group has provided STAR a solution that serves as a cornerstone for daily critical business functions. BSG Financial Group is a true partner – they guide and coach us to ensure we can perform at the highest level. Without question, they have STAR's, and our customers', best interests in mind."
The hosted CourtesyConnect®/CourtesyLimit™ software provides financial institutions an economical overdraft management solution by eliminating the expense and need for hardware and software installation, as well as maintenance on the part of the financial institution. The comprehensive software platform automates many overdraft processes, including storing, monitoring and reporting customer overdraft information, and printing overdraft notices and collection letters. Most notably, the software automatically establishes dynamic overdraft limits for each account holder based on the person's ability to repay the overdraft and other account algorithms, which can help mitigate risk for the financial institution and deliver superior customer service by providing the proper overdraft limit for each account.
Since introducing CourtesyConnect®/CourtesyLimit,™ BSG Financial Group has maintained its focus on enhancing the software to answer the demands of a competitive marketplace and stringent regulatory environment. In response to consumers' using electronic payments more than writing paper checks, the software now also tracks debit card and ATM/point-of-sale transactions denied for reason of NSF. This allows financial institutions to provide account holders with the service at multiple channels, while also generating a new stream of income for the institution.
Another distinguishing benefit of CourtesyConnect®/CourtesyLimit™ is that it centralizes information from multiple bank systems into a single platform, thus equipping client institutions with actionable, analytical data to manage their overdraft service as a line of business. "Regardless of any future regulatory changes that may negatively impact overdraft income, there will always be overdrafts," said Nichols. "More than ever, our clients understand the strategic importance and value of actively managing their overdraft program to responsibly provide it to their customers and reduce their risk in the process."
Over the past 10 years, CourtesyConnect®/CourtesyLimit™ has monitored millions of consumer and business accounts as part of their financial institution's overdraft service. "We would like to thank our client institutions for being early adopters of our software vision," said Nichols. "Our clients have come to expect innovation from us and we pledge to continue this leadership position."
BSG Financial Group offers a no-cost overdraft program analysis for financial institutions to determine if the institution provides the most compliant and profitable overdraft program, or if there are strategies that could enhance the program or introduce a new one.
About BSG Financial Group Louisville, Ky.-based BSG Financial Group is a group of independently organized companies that provides revenue-enhancing programs—combined with compliance solutions—for financial institutions to help them meet their financial goals. BSG Financial Group has been a provider of innovative overdraft programs since 1999, including the industry's first cloud-based overdraft management solution, Courtesy Connect®/Courtesy Limit™.
The company's additional revenue-enhancing solutions include: Demand Deposit Account Management; Fee-Based Packaged Checking Accounts; Expense Management & Vendor Negotiation; Vendor Management; Social Media Management; and Appraisal Management Services.
BSG Financial Group includes the following companies: CourtesyCloud Management Solutions, LLC; BSG Financial, LLC; IQ Development, LLC; and Sales Performance Group, Inc. For more information about the company, visit http://www.BSGfinancial.com.