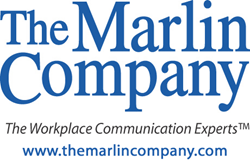 Mobile technology is changing the way we work, making it easier for people to perform their job functions from anywhere
Wallingford, CT (PRWEB) August 13, 2015
As the pioneer in digital signage for the workplace, Marlin has provided electronic message boards that display dynamic content to inform, engage and motivate employees. Typically the screens are located in break rooms or cafeterias where employees congregate. While this has been very effective at reaching office and shift workers, many other employees are working remotely or on the road, relying heavily on mobile devices to stay connected.
"Mobile technology is changing the way we work, making it easier for people to perform their job functions from anywhere," said Frank Kenna III, President of The Marlin Company. "However, it is creating new challenges for managers as they struggle to reach everyone and keep them informed. We knew we needed to go beyond digital signage to include a mobile strategy that would enable managers to reach mobile workers with targeted content."
Marlin's new U.S. Patent No. 9,088,576 creates a one-to-one communication channel enabling managers to deliver content to the end-user's mobile device. The software is highly customizable, allowing the creation of unique content categories and groups of end-users. The technology allows the end-user to provide feedback, rate content and share it. Users can chat with fellow employees and share information. Managers have access to reports that show user activity, giving them a view of their employee network in a way never before available.
"Feedback is a critical component of employee engagement," said Mr. Kenna. "Mobile technology makes it easier to reach employees with relevant content. And now, the technology creates a continuous feedback loop whereby employees with mobile devices can provide feedback on specific content or general suggestions."
Marlin's SaaS-based content management system is known for its ease of use. Its patented technology enables administrators to post content to the electronic message boards and mobile devices. New U.S Patent No.9,094,403, Marlin's fifth patent, enables administrators to post content from any mobile device.
About The Marlin Company
The Marlin Company, a workplace communications company, helps managers reach employees wherever they work, using the latest SaaS-based technology solutions, including flat screens, desktops and mobile devices. Designed specifically for the workplace, Marlin's patented digital signage products are known for their ease of use, robust content options and flexibility. For 102 years Marlin has developed and delivered visual communication programs that engage, inform and motivate employees. Learn more about Marlin's digital signage products and services at http://www.themarlincompany.com.