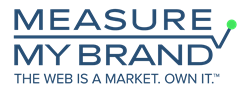 Put simply, search engines will rank higher those sites that retain and engage visitors.
Minneapolis, MN (PRWEB) August 13, 2015
A huge problem in web and content marketing today is the lack of the ability to measure performance strategically. MeasureMyBrand's new mobile app gives b2b companies the ability to know whether they're meeting their number one goal of increasing brand awareness in addition to five other key performance indicators, including website visitor engagement.
In advance of the release of the KPI app, the company is giving away its Visitor Engagement Score™ monthly service. In the not-too-distant future, users will have the added ability to benchmark their Scores against those of similar companies.
"It's widely recognized that the level of visitor engagement is a key factor in Google's algorithm for keyword performance," said Tom Pick, MesaureMyBrand's co-founder and web marketing vice president. "Put simply, search engines will rank higher those sites that retain and engage visitors. In addition, sites that rank higher tend to attract more search visits. This is a case where higher quality visits can lead to a higher quantity of visits."
The company's proprietary Visitor Engagement Score™ algorithm is based on visitor behavior attributes collected from Google Analytics and corrects measurement issues in Google Analytics such as filtering-out the ever-increasing visitor activity generated from web crawlers, or "bots." It also gives marketers the ability to customize the web pages they are measuring so that they can get a true picture of marketing-driven website performance. Examples of pages that might be excluded from measurement are customer login, investor relations, and privacy policy pages.
MeasureMyBrand's Visitor Engagement Score tracks a relative number over time. The objective is to increase the score incrementally—and take action if the trend turns negative.
While the company's mission is to develop strategic measurement tools for b2b marketers and executives in small to mid-size companies, its Visitor Engagement Score is applicable to any type of organization.
Signup for the free Visitor Engagement Score at: http://www.MeasureMyBrand.com.
About MeasureMyBrand™
We help b2b marketers in small to mid-size companies be more successful in measuring and managing the Web's strategic character for business growth and marketing efficiency.
Our MeasureMyBrand KPI's mobile app is the first in a series of strategic measurement tools and represents a leap forward in web marketing measurement innovation. It's the only standard set of market-level key performance indicators (KPIs) for measuring web marketing and includes six KPIs: Brand Awareness and Brand Preference Scores; Competitive Webshare and Competitive Advantage Index; Visitor Engagement and Visitor Quality Scores.
MeasureMyBrand, Brand Awareness Score, Brand Preference Score, Competitive Webshare, Competitive Advantage Index, Visitor Engagement Score and Visitor Quality Score are all the exclusive properties of WPO Inc. All trademarks, service marks, and logos may be registered or pending registration in the U.S. or in other countries.