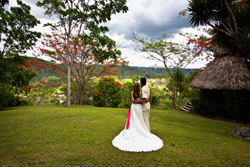 I'm still touched by how appreciative couples are and the many grateful comments we receive
San Ignacio, Belize (PRWEB) August 18, 2015
By acting quickly, couples may still take advantage of a special September 2015 all-inclusive Belize Wedding and Honeymoon vacation package offered by The Lodge at Chaa Creek, according to the Belizean eco resort's wedding planner.
Denise Duran said that by dedicating the month of September to romance, the popular Belizean eco-resort has been able to significantly reduce the costs of Chaa Creek's All-inclusive Belize Weddings and Honeymoon vacation package, which includes everything needed for a complete wedding and honeymoon vacation from the moment guests are picked up at Belize's international airport until they depart.
But to take advantage of the exclusive offer, travellers must book soon, she cautioned.
"The only way we can offer such savings is by dedicating our resources and concentrating on hosting weddings and honeymoons throughout the month of September. It helps reduce our own costs without compromising quality, and allows us to pass the savings onto our guests," Ms Duran explained.
The five night, all-inclusive Belize wedding vacation package offers a fully serviced wedding day and includes Chaa Creek's cottage style accommodation, all meals including an intimate candlelit dinner, and access to the wide range of amenities within Chaa Creek's private 365-acre nature reserve as well as extra luxuries for the bride and groom.
A personal wedding coordinator, choice of rainforest and tropical gardens wedding venues, a secular or denominational celebrant, wedding cake, flowers, including a bridal bouquet and groom's boutonniere, champagne for the wedding toasts, a professional photographer and CD of photographs, selection of music and the release of large tropical Blue Morpho butterflies are all included, Ms Duran said.
"In addition to the wedding, a brides day at the Hilltop Spa, a couples massage and other luxuries, there will be no shortage of things to do throughout the five days and nights, with sunset canoe trips, horseback riding, guided morning bird watching excursions, visits to onsite natural history museum, butterfly farm, a chance to explore ancient Maya temples and much more. Of course, there will be plenty of time for couples to just relax in their individually designed rooms, private verandas or around the infinity pool," she said.
Ms Duran said that Belize is enjoying growing popularity and an excellent reputation for hosting destination weddings and honeymoons. She cited the ease of getting to Belize from North America, a friendly, English speaking populace, a more sophisticated spa and dining culture and stunning scenery as some of the factors driving this growth.
"The world is still discovering Belize, and after hosting so many weddings and honeymoons over the years I'm still touched by how appreciative couples are and the many grateful comments we receive. It's something we take special pride in and it's wonderful to see that it's so appreciated.
"On each wedding day I wake up telling myself I have the best job in the world," Ms Duran said.
Ms Duran encouraged couples to contact Chaa Creek or their travel agents to learn more about Chaa Creek's All-inclusive Belize Weddings and Honeymoon vacation package.
The Lodge at Chaa Creek is a multi award winning eco resort set within a 365-acre private nature reserve along the banks of the Macal River in Belize.
ENDS