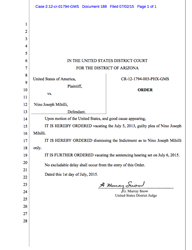 I feel the Federal Government really acted like true gentlemen in regards to this case, they gave my brother and I the benefit of the doubt for not having done anything wrong.
Phoenix, AZ (PRWEB) August 29, 2015
Nino Joseph Mihilli and his brother Nikolas George Mihilli have both been cleared of the criminal charges filed back in 2012.
Case# is CR-12-1794-003-PHX-GMS
Sandra Day O'Connoer U.S. Courthouse
401 W Washington Street, Suite 130, SPC 1
Phoenix, AZ 85003-2118
In 2013 both brothers agreed to a Deferred Plea Agreement with the Federal Government. The two were to remain on pretrial services for two years, and abide by all the terms set. After the two years were up, the indictment would be dismissed. Both brothers fulfilled all the terms set. On July 1st, 2015 Judge Murray Snow signed off on dismissing the indictment. They are both now clear of any criminal charges and no longer have any business with the Federal Courts.
According to Nino Mihilli," I feel the Federal Government really acted like true gentlemen in regards to this case, they gave my brother and I the benefit of the doubt for not having done anything wrong. I encourage local, county, and state prosecuting attorney offices to take a page out of the Federal Governments play book and give others the benefit of doubt as well."
Since 2012, Nino Mihilli has made it his passion to give back to his community and was nominated and selected to sit on the Saint Mary's Basilica Parish Council. It is a 3 year commitment that involves the planning of the churches current projects and future projects. According to Nino, "I am blessed and honored to be selected to sit on the Parish Council and I am extremely grateful to have the opportunity to be able to serve our church community even more." There were close to 40 members that were nominated, but the church only had three positions to replace.
Several years has passed, and now Nino Mihilli is an entrepreneur that prides himself on creativity, loyalty, and discipline. Nino loves to take on extraordinary challenges and ventures. Mihilli has a Bachelors in Business Management with an emphasis on Small Business/Entrepreneurship from Arizona State University. He is also currently studying to get his MBA with a concentration on Finance from the University of Phoenix. Nino plans to be finished with his MBA Degree by April of 2016.
Nino Mihilli is married with 3 children, and is planning to have more. He is a devoted Catholic and you can find him and his family every Sunday at St. Marys Basilica in downtown Phoenix. Nino was born in Detroit Michigan, but grew up in Chandler, Arizona. When his family moved from Detroit they lived with his grandparents on his mothers side, Hanna and Salima Daiza. He is first generation born in America. His father Gjergj (George) Mihilli is an immigrant from Albania, and his Mother Silvia Mihilli (Daiza) is from Iraq. His Mother is Chaldean, which are Catholic Iraqis. He has 3 siblings: an older brother Nikolas Mihilli, an older sister Natalia Mihilli, and a younger sister Narissa Mihilli (Camacho).
At the age of 15 he donated his Bone Marrow to his older sister Natalia who was diagnosed with stage IV Rhabdomyosarcoma Cancer. Natalia has a remarkable story that can be seen from her page https://www.facebook.com/pages/BBrave/476824005699123?sk=info&tab=page_info
Nino Mihlli is also an avid writer. He wrote a screen play about immigration, and won a couple of awards for it. He took that screen play and published it on amazon to raise money for the making of the project. You can find that screen play on Amazon.com.
Nino loves to play basketball, running, hiking, playing cards, and listening to all genres of music.
T47group is his main business site where you can see all of his different business he owns.