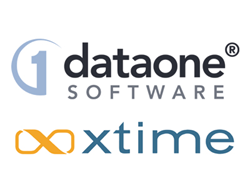 DataOne delivers a valuable resource at a fraction of the cost and with a high level of accuracy. Gerry Faro, director of catalog management for Xtime
Beverly, Mass (PRWEB) August 18, 2015
DataOne Software today released a case study detailing how its consistent, timely and accurate vehicle data and VIN decoding provide a foundation for Xtime's thriving customer retention products that have helped the company penetrate the Canadian market. DataOne Software is a division of Dominion Dealer Solutions and a leading provider of automotive data and software solutions.
Xtime, located in Redwood City, Calif., is a customer retention provider for the automotive industry, with a growing list of automotive manufacturer, dealer group and dealership service department clients. Xtime's products depend on complete vehicle data being updated regularly and delivered in a consistent format.
According to Gerry Faro, director of catalog management for Xtime, "To do this in-house would require a large investment in staff and resources. DataOne delivers a valuable resource at a fraction of the cost and with a high level of accuracy."
DataOne's VIN decoding and data solutions have allowed Xtime clients to use targeted messaging with Xtime's Marketing 7 product, schedule the right services with Scheduling 7, and upsell services with Check-In 7.
"We are happy to provide Xtime with an advanced VIN decoding solution so their products can successfully drive dealer service revenue," said Jake Maki, general manager of DataOne Software. "It's exciting to make a foundational contribution to such a fast-growing company that has utilized our Canadian vehicle data to expand beyond the U.S. market."
Click on the link below to learn more about how DataOne's solutions have assisted Xtime's products in boosting sales for their clients in the U.S. and Canadian markets.
Case Study: DataOne / Xtime
About DataOne Software
Since 1999, DataOne Software has fulfilled unique content and data needs in the automotive marketplace, providing businesses with cost-effective data integration and support for rapid technology development. The company sources automotive and related content including data and media, and was one of the first companies to make automotive content available by web service. Today, DataOne Software, as a division of Dominion Dealer Solutions, provides data and materials to most segments of the automotive industry including insurance, warranty and service contract sectors, transportation, federal and state agencies, newspaper and print, as well as the auto dealer marketing sector. For more information about DataOne Software automotive content, visit http://www.dataonesoftware.com, call 877.438.8467 or e-mail sales(at)dataonesoftware.com.
About Dominion Dealer Solutions
Dominion Dealer Solutions helps car dealers attract, retain and service customers for life. Dominion Dealer Solutions' marketing performance system includes: lead generation, mobile apps, reputation management solutions, web-based customer relationship and lead management tools; custom digital marketing tools including websites, SEO, SEM, digital advertising and specialized data aggregation and inventory management analytics including market reports. Every OEM and more than 60 percent of auto dealers nationwide utilize the Dominion Dealer Solutions' technologies to solve their marketing challenges. For more information, visit drivedominion.com
Dominion Dealer Solutions is a division of Dominion Enterprises, a leading marketing services and publishing company serving the automotive, recreational and commercial vehicle, real estate, apartment rental, parenting, and travel industries. Headquartered in Norfolk, Virginia, with 3,300 employees in the United States, Canada, England, Spain and Italy, the company provides a comprehensive suite of technology-based marketing solutions, and more than 45 market-leading websites. Millions of For Rent® and HotelCoupons.com® publications are distributed across the U.S. each year. For more information, visit DominionEnterprises.com.