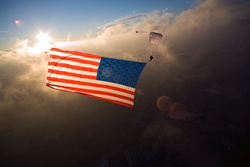 It's not just about hot air balloons; it's about connecting as a community.
Marysville, OH (PRWEB) August 14, 2015
The event will be held August 13th through the 15th, at Marysville's Union County Airport. It has something fun for everyone, including hot air balloon rides, live music, and much more. Team Fastrax will be performing several exciting jumps all throughout the weekend, including their American Flag performance and several tandem jumps with wounded warriors.
John Hart, owner of Start Skydiving, and member of Team Fastrax™ said, "The All Ohio Balloon Festival is a very family friendly event. The sense of community within this festival is heartwarming. It's not just about hot air balloons; it's about connecting as a community. We hope everyone comes out and enjoys the weather, activities and time with one another. "
According to their website, first held in 1975, the All Ohio Balloon Fest is one of the longest-running events of its kind in the history of the United States. Each August, 30,000 visitors of all ages gather at the Union County Airport in Marysville, Ohio to enjoy food and merchandise vendors, musical entertainment, children's activities, helicopter, airplane and balloon rides, and sky jumping in addition to a wide variety of traditional and special shaped hot air balloons. Balloon flights and balloon glows are daily highlights you won't want to miss. As a non-profit event, all proceeds from the fest are donated to United Way of Union County.
Team Fastrax™ is sponsored by Selection.com®, a leading provider of criminal background checks and pre-employment screening services. Team Fastrax™ is the most ambitious professional skydiving team in the world. The parachute demonstration team has a roster of more than twenty-nine active members, with a collective of more than 300,000 skydives. Team Fastrax™ has performed exhibition skydives all over the world, for audiences large and small, as a patriotic display or as a product promotion.
For more information on the festival, visit their website.
For questions or for an interview, contact Gene Newsom with Team Fastrax™ at 513-422-5867.