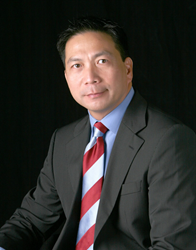 Des Moines, WA (PRWEB) August 15, 2015
Wesley Homes Retirement Communities and Home Health Services welcomes Alexander M. Candalla as the new executive director for Wesley Homes Des Moines.
As executive director, Candalla will oversee a 45-acre community that will begin a redevelopment process. Currently, the campus consists of three apartment buildings, multiple independent living residences, assisted living apartments and a skilled nursing and rehabilitation center. Candalla will also be responsible for the adult day care center and Northwest Conference of the United Methodist Church buildings that are also part of the Des Moines campus.
Since 1999, Candalla has been the executive director of a retirement community in California. Under his leadership, that campus maintained a 5-Star rating in all areas and achieved two zero deficiency-free surveys within the last three years.
"I'm looking forward to being a part of the Wesley Homes team," said Candalla. "Visiting the Des Moines campus provided me the opportunity to meet a dedicated group of individuals committed to providing excellent service to residents and team members. Having served a company for almost 19 years, I can't think of a better place to work and spend a new phase of my career than Wesley Homes.
"After spending a few days at Wesley," continued Candalla, "I've gotten to know a little bit about our CEO, Kevin Anderson. Let me just say how blessed I am to be working for him and with him. He is a true leader, an inspiration for us all and a man of high ethical value and integrity. Wesley Homes is in great hands. We will all do wonderful things together to serve residents."
Candalla has a Master of Arts in Gerontology with an emphasis in Long-Term Care Administration and a Bachelor of Arts in Kinesiology, both from San Francisco State University. He is pursuing a Master of Business Administration with an emphasis in Health Care Management. He holds several licenses and certifications, including California Nursing Home Administrator, preceptor and Retirement Housing Professional.
His accomplishments include Vice Chair, LeadingAge California Board; Executive Director of the Year, American Baptist Homes of the West; Mentor of the Year, LeadingAge California; Dr. Herbert Shore Mentor of the Year, LeadingAge National; and the Dr. Hiram Friedsam Mentorship Award, University of North Texas.
With the Des Moines campus redevelopment, there are many changes ahead for Candalla and Wesley Homes. "It's an exciting time for Wesley," said Candalla, "and I am blessed and fortunate to be a part of it."
Established in 1944 and affiliated with the Pacific Northwest Conference of the United Methodist Church, Wesley Homes operates two retirement communities and a home health agency. Wesley Homes Des Moines is a continuing care retirement community offering independent living cottage homes, apartments, assisted living and skilled nursing. Wesley Homes Lea Hill in Auburn offers Village Homes, apartments and memory care. Wesley Homes Community Health Services provides home health services to clients throughout the Puget Sound region.
Wesley Homes
Retirement Communities │ Home Health Services │ Foundation
815 S. 216th Street
Des Moines, WA 98198
(206) 824-5000