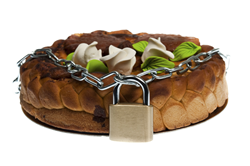 Alas, homemade foods, such as cakes, are not permitted to be sent by courier overseas.
(PRWEB UK) 14 August 2015
It seems a simple task for those lucky enough to travel abroad this holiday season to send newly discovered foods back home, and for those with family overseas to mail them their favourite dish. Global courier Fastlane International says there are many foods you can safely send overseas – but you need to be aware of the rules and import regulations.
Says Fastlane International's David Jinks MILT: 'It's not difficult to send many foods overseas; but you do need to be up to date with regulations. Each country has its own food import regulations stating what cannot be imported there. On top of these country specific regulations there are also some general shipping rules that you must adhere to. But if you get these right, your hampers really shouldn't be hampered. '
Continues David: 'The good news is that the vast majority of non-perishable foods can be sent by international courier. Couriers accept most store-bought foods with a shelf life of more than six months from the date of shipment: as a general rule, condiments, vinegars, oils, packaged spices, honey, coffee and, most importantly if you are like me, tea are admissible!'
David adds: 'There are just a few things to keep in mind when sending these kinds of food to another country, or from overseas to the US or UK. All items must be in the original manufacturer's original packaging, which must be securely sealed and not tampered with in any way; the label must list all the ingredients and finally ensure the 'use by' or 'best before' date is clearly displayed on the label.'
On top of courier's rules, David says: 'You should also remember that every country has their own import regulations, so it's very important you check that your food items are allowed into the country prior to shipping. For example, if your child developed a taste for Kinder Surprise chocolate eggs when in Europe, you might have a nasty Kinder Surprise sending them to the US, where the egg is likely to be seized or destroyed because it contains a '"non-nutritive object embedded in it." Check the country's pages on the Fastlane website and, most importantly, on each countries' own Customs pages. For example, tinned meat or poultry products will fall foul of individual countries' rules, particularly if you are sending back to the USA and beyond the EU.'
Sadly, it is very difficult to send home-made foods overseas. 'What happens if you want to send your loved ones their favorite cake you baked this morning?' asks David. 'Alas, homemade foods, such as home baked cakes and treats are not permitted to be sent by courier overseas. That includes everything homemade from biscuits to casseroles. Nor can you send food that could spoil or go off during transit, or isn't fully sealed with a complete food label. You're better off sending them the recipe!'
Finally David points out: 'Items that need to be kept frozen or chilled in transit must be sent via a specialist courier that offers temperature controlled services, because normal transport vehicles do not provide a suitable environment for these items and the food will spoil during transit.'
To find out what's on or off the menu when sending items overseas by courier, check Fastlane's prohibited items section: http://www.wedelivertheworld.co.uk/support/before-you-book/prohibited-items/