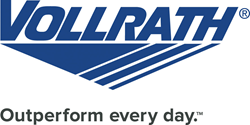 Sheboygan, WI (PRWEB) August 17, 2015
Vollrath President and Chief Executive Officer, Paul Bartelt, today announced the acquisition of Miguel Pujadas, S.A. located in Santa Coloma, Spain.
By acquiring Miguel Pujadas, a European manufacturer and importer of cookware, steam table pans, buffet and tabletop serving equipment, warewashing racks and small equipment, Vollrath will expand its global manufacturing footprint, diversify its international distribution channels throughout the world and expand its depth and breadth of European cookware offerings.
While Vollrath is known throughout the industry as a leader in metal stamping and fabrication, the acquisition of Pujadas will add additional stamping and assembly capabilities to satisfy a diverse worldwide marketplace with additional varieties of cookware, bakeware and serving equipment. The addition of these new products will complement Vollrath's extensive equipment and smallwares offering, while further enabling the company to serve as a one-source solution to help foodservice professionals run a more flexible, efficient and profitable business.
"Pujadas is a natural fit to grow and expand our business internationally," said Vollrath's President and CEO Paul Bartelt. "Like Vollrath, Pujadas has a long standing reputation for the design and manufacture of industry-best products and outstanding customer service. We welcome Pujadas into the Vollrath family and look forward to leveraging our combined operations and resources to strengthen our commitment to customers around the world."
"We are excited to join the Vollrath family. Our two companies have a lot in common and this is a great day for both our employees and our customers. We're confident that together we'll be able to accelerate our shared vision for international growth," said Pujadas General Manager Daniel Domenech, who will continue to oversee the Miguel Pujadas operations.
About the Vollrath Company
The Vollrath Company, based in Sheboygan, Wis., has a reputation for the design, development and manufacture of the foodservice industry's finest smallwares and equipment. With a collection of exceptional people, industry leading products, and helpful consultative services, Vollrath is assembled for one purpose – to advance the art of hospitality. For more information about The Vollrath Company, its products, facilities in the US, Europe, Mexico and China, and the 19 foodservice industries it serves, visit http://www.vollrathco.com or search "Vollrath" to find us on Facebook or Twitter. For media inquiries, contact Linda Diedrich at 920-459-5204 or via e-mail at ldiedrich(at)vollrathco(dot)com.
About Miguel Pujadas
Pujadas, headquartered in Santa Coloma, Spain specializes in manufacturing and distribution of foodservice equipment and supplies in markets around the world. Founded in 1921, Pujadas has a rich tradition of providing the industry products and services know for quality, design and innovation. For more information visit http://www.pujadas.es