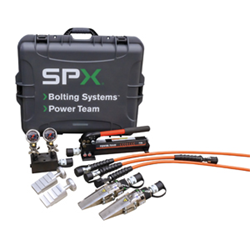 Eygelshoven, Netherlands (PRWEB) August 16, 2015
The Offshore and Topside flange spreader kits are the latest in the SPX Hydraulic Technologies FLS series of 15 metric tons (33,000 pounds) wedge driven spreaders. Used to create space for clearing and repairing flange surfaces and gasket replacement, both kits are ideal for flanges with narrow gaps, allowing entry at just 5mm (.2 inches).
The use of new technologies and materials, including a special alloy, mean the flange spreaders are very high strength but the kits are lighter. The cases are user-friendly and come with all the accessories needed for safe and controlled use.
The Offshore spreader kit has been developed specifically for the maritime oil and gas market, and has a compact case designed for offshore conditions. Its tight product spacing makes it easier for transport by helicopter, and it has a weatherproof gasket seal and pressure equalization valve on the case. This kit also carries IP67 rating, so is totally protected against dust and the effects of immersion in depths between 15cm and 1 meter (1.97inches and 39.4inches).
The Topside flange spreader kit has a lightweight case and comes equipped for use in inland oil and gas markets and general industrial applications. Quick adjustments for various tasks can be made due to the interchangeable stepped and serrated shoes, and the case has extra storage space for additional step shoes and up to three step blocks.
The CE kits for the European market meet the applicable European Conformity directives and have a bar gauge, while the non-CE kits have been designed for the American market and have a psi gauge.
The Offshore and Topside flange spreader kits are now available from SPX Hydraulic Technologies and their international distributors.
Click here to visit the web page and download Topside & Offshore Flange Spreader Kit cut sheets:
http://www.spxflow.com/en/power-team/news-and-events/two-hydraulic-spreader-kits/