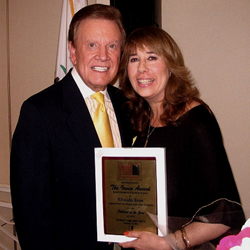 The online piracy of books is a crime that unfortunately, doesn't leave any fingerprints.
Tarzana, CA (PRWEB) August 18, 2015
The Book Publicists of Southern California has honored PR expert and author, Rhonda Rees with their Publicist of the Year Award for 2014-2015. She was recognized on behalf of her award-winning book, Profit and Prosper with Public Relations®: Insider Secrets to Make You a Success, published by Aseity Press.
Presenting her with this high accolade was distinguished veteran game show host Wink Martindale, who served as the master of ceremonies. (See the YouTube video.)
The organization's Irwin Awards (Industry Recognition of Writers in the News), and named for club founder Irwin Zucker, is a one-of-a-kind event, that was held over at the landmark Sportsmen's Lodge hotel in Studio City, California, where such Hollywood luminaries as Clark Gable, Bette Davis, Humphrey Bogart, Lauren Bacall, Spencer Tracy and Kathryn Hepburn used to hang out.
The important recognition and its special distinction were marred only by an issue that has been making the news lately – that of the online/Internet piracy and copyright infringement of books, a little-known situation that is affecting countless unsuspecting authors. Rees would like to use her recognition to help bring attention to this issue. Most people are aware of rip-offs that have happened in the music industry where famous artists have been cheated out of their money by copyright infringement. Instead, it is now impacting the average person in a very big way.
"Hundreds, if not thousands of authors have been caught off-guard by online piracy," says Rees. "Instead, it is now impacting the average person in a very big way. These unsuspecting writers have often put their hearts and souls into their projects – only to have all of their hard work stolen with a click of a button."
In our technological age, and with the proliferation of so many advances in communication, devices, social media, and global expansion, these types of crimes are skyrocketing. As an example, Scott La Counte is the founder of Piracy Trace (piracytrace.com), a service that scans the Internet to find out if a book has been plagiarized. The site's results page provides sample sentences and links to where a work has been copied, and it gives the examples in context so that you can know where on a website a book is being used.
"What might be the reason for a company to offer free copies of an author's books? After all, what's in it for them? Well, the simple answer is that oftentimes, one of these unscrupulous websites will want to collect data on you, and when you go to download the book, you will have to provide your personal details," says Rees. "Another reason is that once you do so they might give you the "gift" of a computer virus, and can engage in IP spoofing, making you think that you are being directed to one website when you are actually being sent somewhere else. Lastly, they may use your book or others as a teaser, so that you will pay them to get their products and then receive your free books."
The following are some practical steps that authors can take in order to help combat the online piracy of their work. Here are Rees' suggestions:

Run detailed Google searches regularly on your book or books, and if something doesn't look right, be sure to investigate it further. You can plug in the title of the book and then add the words "free downloads" to narrow your search.
If you discover that your book is listed on one or more pirated sites, run a Whois search to find out where to send a DMCA (Digital Millennium Copyright Act) notice. Be sure to word it exactly the way it needs to be written. (Free sample DMCA notices can be found online.)
You should receive notice from the web hosting company when your information has been removed within 24-hours. Just in case, check to make sure any free download offers have been removed.
There are many companies and organizations that are taking the threat of online piracy seriously. For instance, The Global Intellectual Property Center (GIPC), an affiliate of the US Chamber of Commerce in Washington DC is working tirelessly in order to help protect the intellectual property (IP) rights of businesses worldwide, and provide safety tips for consumers to avoid purchasing these dangerous fakes, which can be found at the website: http://www.DangerousFakes.com.
In addition, the counterfeiting of goods is also a widespread issue, where most consumers are left unaware. Craig Crosby is the publisher of The Counterfeit Report®, http://thecounterfeitreport.com/ a consumer website helping individuals identify counterfeit products. He states, "Counterfeiting is a bigger problem than most, if not all consumers recognize. Manufacturers are devastated. It is the number one criminal enterprise in the world – exceeding illegal drugs, and with little consequence."
And, the Authors Guild of America is a very proactive group in lobbying Congress. They have recently sent a letter to them asking for their help in combating piracy. According to the organization, From 2009 to 2013, the number of Internet piracy alerts they received from their membership increased over 300%. By 2014,that number doubled.
As the current Book Publicist of the Year, Rees is hoping that by spreading the word about this issue, the important cause of online piracy will be taken very seriously.
Copies of Profit and Prosper with Public Relations®: Insider Secrets to Make you a Success are available from Amazon.com as a printed book for $25.95 (CD included), and as a Kindle e-Book (with download) for $9.99. http://www.amazon.com/Profit-Proper-Public-Relations-Insider-ebook/dp/B00IEP6DCM#
A portion of the proceeds will be donated to the nonprofit Sarcoma Alliance.
ASEITY PRESS:
Jean Hadlow
18375 Ventura Boulevard, Suite # 372
Tarzana, CA 91356
Contact: jeanhadlow(at)aseitypress.com
818-325-2089
Author Email: rhondarees(at)aseitypress.com
Blog: http://rhondarees.com/
LinkedIn page: https://www.linkedin.com/profile/view?id=AAIAAA0snsABxI_gMDlRF0SdZBtqHl-HGC5xg3Q&trk=nav_responsive_tab_profile
NOTE TO MEDIA:
Rhonda Rees is available for interviews.
Call Jean Hadlow at 818-325-2089 to make the arrangements.