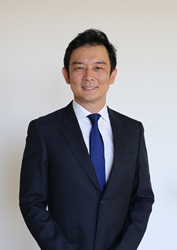 Charlie's deep understanding of Argus J and the Japanese regulations and culture will support Foresight in our efforts to remain a trusted and reliable partner of Pharmaceutical industry in Japan
Tokyo, Japan (PRWEB) August 18, 2015
Industry veteran and a leader of Argus Safety Japan (Argus J), Hisayoshi Charlie Kinemura has joined Foresight Group as Senior Vice President. With his in depth knowledge and experiences in the design and implementation of Argus J for numerous clients, Charlie will play a leading role as an SME for Foresight's Argus J customers.
"With Charlie's proven track record of achieving success with his previous assignments on Argus Safety Japan projects, we believe that his deep understanding of Argus J and the Japanese regulations and culture will support Foresight in our efforts to remain a trusted and reliable partner of Pharmaceutical industry in Japan," said Brian Dinardo, Co-CEO and Director, Foresight.
While at Relsys, the original developer of Argus Safety Suite, as a Product Manager, Charlie, and before him Keisuke (KC) Katsuyama who also has joined Foresight in May of this year, designed and led the development to introduce Argus Safety Japan, which is now widely used by a large number of Japanese Pharma companies. He continued his product strategy work through Oracle after its acquisition of Relsys for multiple releases of Argus J, and also led Oracle's Japanese life science product strategy as Director. During his work at Oracle as well as his previous position as Vice President, Japan at RxLogix Corporation, he led numerous Argus and Argus J projects successfully for multiple clients.
Charlie holds an Engineer's degree in Computer Science from San Diego State University as well as an Economics degree from Toyo University, Japan.
About Foresight
Foresight Group is a global management and technology services company focused exclusively on pharmacovigilance and risk management. It offers a full range of services with pharmacovigilance experts in every major pharmaceutical market in the world: North America, Europe and Japan. Its best-in-class partnership with Oracle for the implementation of Oracle Argus Safety Suite coupled with its deep expertise in drug safety lets Foresight offer clients the most comprehensive pharmacovigilance services and solutions available in the industry. All of its services and solutions are delivered with precise, timely and cost-effective execution to help the clients achieve and sustain regulatory compliance and manage risk.
Contact
Foresight Group Japan K.K.
Mihoko Senda
+81-3-5404-3440
http://www.foresightgroup.com/j